Nursing Studies - Clinical Skills: The Digestive System
Learn how to properly care for patients with gastrointestinal illnesses, with this free online nursing course.
Publisher:

MEDCoE
This free online Nursing Studies course teaches you about the digestive system. You will learn the skills needed to provide effective care to patients who are experiencing gastrointestinal difficulties, as well as about how the digestive system ingests, breaks up, and carries food. Finally, you will learn about proteins, carbohydrates, fatty acids and the other nutrients which are broken down to provide fuel for the body's metabolism.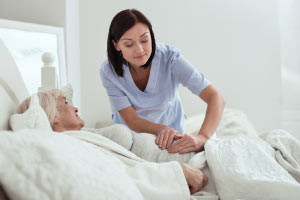 Duration

1.5-3 Hours

Accreditation

CPD
Description
There are six essential nutrients required to maintain life and health. These are carbohydrates, proteins, fats, minerals, vitamins, and water. This course will first discuss these nutrients including the three major groups of carbohydrates. You will then study the function and division of the stomach and the time frame involved in the digestive process. You will also look into the physical examination of the abdomen involving visual inspection, auscultation, and palpation.

A gastrostomy is a surgical opening into the stomach, made through an incision in the left, upper abdomen. This course will discuss the sixteen steps involved in administering a gastrostomy tube feeding. You will learn that caring for patients with cirrhosis requires careful assessment and monitoring of their nutritional status. You will then study diabetes and learn the seven steps in administering insulin. This course will also discuss the symptoms of hyperglycemia and ketoacidosis.

By the end of this course you will have a much stronger understanding of the digestive system and highly important types of gastrointestinal disorders such as gastritis, gastroenteritis, peritonitis, ulcers, and intestinal obstructions. You will have also learned how to identify the symptoms for each disorder and treat them effectively. This is powerful knowledge that can really make a difference in your patients' lives. So, check out the course today and enhance your nursing skills in just a few short hours.
Start Course Now