Networking Theory and Architecture
Acquire the basic knowledge needed to understand networks and their arrangements in this free online networking course.
Publisher:

Bigger Brains
The journey to solid expertise in network architecture starts by understanding the fundamental framework at the heart of computer network design. This computer organisation and architecture course covers the basics of computer networks, with an emphasis on network infrastructure and protocols. Learn the process of organizing and configuring various components to implement a network as well as the critical functions of computer networks.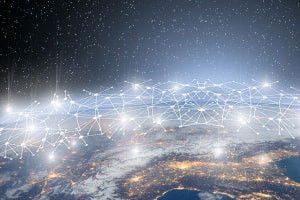 Duration

5-6 Hours

Accreditation

CPD
Description
A career in network architecture is both lucrative and is in high demand. It is an ideal career for people that enjoy solving complex problems and thinking systematically. This free online network certification will help you get started by understanding network theory and architecture. It begins by illustrating the framework at the heart of networks, the OSI model. You will discover how a network works and how its various components are organized and interconnected, and how Wide Area Network (WAN) network technology enables internet access by involving all the elements. The various network topologies (how networks are arranged) is studied before moving on to the kinds of wired network devices that you will come across in the field.
This computer networking course continues by teaching you the concepts and functions of network devices, wired connections, connectors, routers, switches, firewalls, network devices, cables, wiring standards, and connections. In the field of networking, one of the most important topics is that of servers and how they operate. This is the next key theme in this computer networking certificate and you will discuss the responsibilities of Dynamic Host Configuration Protocol (DHCP) and Domain Name System (DNS) servers, along with different kinds of wireless connections and IP fundamentals. We will also explain the components required for computers to communicate over a Transmission Control Protocol/Internet Protocol (TCP/IP) network.
Virtualization is critical in modern computing and with the complexities of modern IT infrastructure, the last part of this computer network tutorial explains the various aspects of virtualization that aid in making your network hardware independent. The course concludes by teaching you about the routing protocols and advantages of software-defined networking (SDN) over traditional networking. This introduction to computer networks course is a great one to enrol in if you are in a different sphere of IT and need a refresher or if you want to become a network expert and want to kickstart your career with some solid, technical knowledge that you can apply immediately.
Start Course Now