Montessori Teaching - Fundamental Concepts & Principles
In this free online course, learn about the concepts of Montessori Teaching as the basis for early years education.
Publisher:

Montessori Pro
This free online course on Montessori Teaching, enlightens the learners with the fundamental concepts and historical context of early childhood education (ECE), Maria Montessori and her observations towards the learning behaviors of children, along-with different established domains of Montessori Teaching. The course also elaborates the role of environment for environment-led learning. This course is an ideal match for beginners.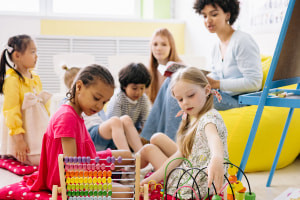 Duration

1.5-3 Hours

Accreditation

CPD
Description
Globally Montessori Teachers are high in-demand and there is certainly a shortage of professional Montessori teachers. In many countries the vacancies for Montessori Teachers remain vacant since there are not enough professionals in the market to serve the positions. This free online course" Montessori Teaching - Fundamental Concepts & Principles" is the first precise but substantial step towards Montessori teaching. It will help build your interest towards Montessori teaching in just a short span of time. As it focuses on the concepts of Montessori principles, and the observations of Maria Montessori (the pioneer of Montessori Teaching) towards children and their learning behaviors.  With the Montessori empowered environment, the child will enjoy self-construction and eventually have the freedom to learn on their own within a structured Montessori environment. This course will highlight the fundamental domains and areas of Montessori teaching. Montessori Pro as a leading Montessori Teacher's training provider will be creating more free courses with Alison along with this one to offer in-depth free learning opportunity to everyone across the globe.
There are different training programs which are available globally to prepare a Montessori Teacher. These are accredited certification programs launched by different internationally acceptable and reputable institutes. This course is a different one since it does not go into the details of each activity and exercise in different domain for a children, rather it provides you an outlook about Montessori Teaching and its various domains. This course unlike other diploma courses is an awareness course for those professionals who are looking to make a career In Montessori teaching. It will teach the fundamental learning behaviors of children, about Maria Montessori herself, other early childhood education approaches with its historical context etc. As a Montessori teacher, one needs to be highly creative, fulfilling and ultimately the Montessori teachings jobs will also be rewarding. Montessori teachers should also be intelligent and compassionate as they are the ones committed to enhancing the lives of their students.
This free online course comes with study reminders and transferable notes that can be taken throughout the course while studying it. This course is ideal for those who are looking to make a novel career in Montessori teaching. This course can also be used by parents who are looking to create a similar enviroment for Montessori teaching at home. Enrolling for this course will allow you to expand your knowledge and skills in the kid's development area of Montessori Teaching.
Start Course Now