Microsoft Access Masterclass
Learn the principles for the creation and proficient use of databases with Microsoft Access in this free online course.
Publisher:

Ermin Dedic
Databases are an important part of the information landscape and this free online Microsoft Access tutorial will show you how to proficiently leverage data with the use of Microsoft Access. You will learn how to design and build tables, forms, reports, controls and queries that work efficiently, access macros and program control structures in Visual Basic for Applications (VBA) as well as fix Excel data import errors.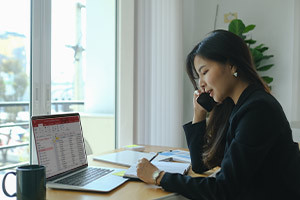 Duration

5-6 Hours

Accreditation

CPD
Description
Today we live in an age that has been aptly dubbed the computer, information or digital age. The world economy is largely powered by information that is exchanged at unprecedented speeds and volumes and these metrics are increasing at an exponential rate almost daily. All of this information ultimately sits on some kind of database. Database tools are diverse and varied, catering to different types of users for whom they were created or who found them useful and have adopted them. Microsoft Access is one such database application that has evolved into a leader in the field over time. In this free online Microsoft Access training, you will be exploring this interesting tool extensively. You will be shown how to navigate and work with existing database structures as well as the fundamentals of editing records and the sorting of information by following all database management principles.
The understanding of tweaking field properties like size, format, input masks, default values and validation rules can give you a good start at creating tables professionally. You will learn the functions of the 'zero-length text fields' and 'look-ups' as well as how to move fields and add fields in the design view. Reports can simply be defined as outputs from our tables and in light of this, you will be introduced to reports and report wizards. In addition, this Access database tutorial will illustrate how to move, resize and align data in reports. You will also learn what controls are, the different types you can use in Access and how to manage them properly. There are no databases without queries and Access is not an exception. You will be taught what queries are and the best way to design them. Forms come in handy for adding records to your database. In order to provide a quick and efficient method for modifying and inserting records into your databases, this Microsoft Access certification explores how to create forms with proper attention given to features such as alignment, styling and controlling tab order. 
Rules are necessary for order to prevail and this is so with MS Access too. This section of the course discusses the rules of normalized tables, the tips for primary keys, the reason for picking a starting auto-number and the necessity for duplication. You will also be taught the techniques of using Excel with Access without getting bogged down by the associated problems and errors that come with it. This Microsoft Access course will finally teach you how to normalize and create a master table as well as how to create relationships between tables and append a query. Two other key topics covered include how to use control structures and macros. Have you always been curious about Microsoft Access? What does it do? How can it work for you? All of these questions and much more are answered in this course. There are many lines of work that use the power of Microsoft Access including data science, engineering, business management and computer science and the technicalities you learn in this course can add valuable skills to your portfolio to increase job opportunities. Any version of MS Access ranging from 2013 to present installed on a PC is all you need. If you know how to use a computer and are motivated to learn, then enrol right away and become a database management expert in just a few hours.
Start Course Now