Mechanisms of Gas Turbines
This free online engineering course explains the functions and inner workings of gas turbines and epicyclic gears.
Publisher:

ADU
This free online engineering course breaks down the mechanisms of gas turbines and teaches you the features and functions of electric and pneumatic starting systems. We go through various lubrication systems and examine the components of the lube oil subsystem. We also cover automated central operating systems (ACOS). This course suits those interested in using natural gas to create relatively clean energy.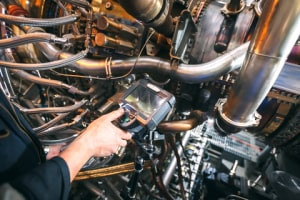 Duration

3-4 Hours

Accreditation

CPD
Description
This free online course introduces you to the fundamental principles of gas turbine starting systems, as well as their procedures and safety precautions. We break down start-up control features along with the characteristics of electric starters, including new advances to their technology. We explore the functionality and features of General Electric's starting systems (the engine start, motoring purge, water wash and borescope) before examining pneumatic starters. This course investigates the components of the hydraulic start system and establishes its disadvantages: complexity, system weight, flammability of hydraulic fluids and the existence of high-pressure hydraulic lines. We study hydraulic start-system operation alongside functions of the hydraulic oil charge pump, charge pump filter and main hydraulic oil pump. This includes the hydraulic starter motor, centrifugal starting clutch and pre-start inspection steps.
This course then shows you how to work out much lubricating oil a gas turbine requires and consumes. We compare the two types of lubricating oil for gas turbine applications: standard and corrosion inhibiting. We demonstrate the harsh conditions experienced by lubrication oil in gas turbines: extreme heat, high contamination and inadvertent mixing with other substances. We cover two types of lubrication systems (wet sump and dry sump) while using a lube oil system schematic to explain the lube oil flow and components of the lube oil and lube scavenge subsystems. We lay out the characteristics, requirements, maintenance and handling of fuel before comparing its types: liquified natural gas (LNG), liquified petroleum gas (LPG), ethane and pure hydrogen. After establishing the functions and components of the fuel system, the course teaches you the requirements for a marine gas turbine engine: starting, steady running requirements and engine acceleration and deceleration.
We can help you to master detection methods used for typical transducer faults like speed and temperature transducers. This course also teaches you the spark ignition system's working features and functions as you become familiar with power turbines and the significance of the synchro-self-shifting (SSS) clutch in starting them up. We unpack epicyclic gears (star, planetary and solar) and demonstrate the advantages of using multiple-planet wheels. We then take you through more clutches: twin-disk, airflex, hydraulic and sprag. We explain the purpose of the 'bleed air' and 'intake and exhaust' systems before delving into the data-processing aspect of the automated central operating systems (ACOS). This free online engineering course suits anyone interested in the inner workings of gas turbines, particularly those who care about the planet and want to keep it powered with clean energy.
Start Course Now