Mastering the Media
Learn how to master the media through some basic concepts and prepare for your interviews in this free online course.
Publisher:

TJ Walker
This free online course will help you master the media by guiding you through the fundamental principles of media communications. We'll take you through key concepts, tips and secrets of successful interviews or any media appearance. You will also learn some valuable tips to look comfortable, confident and relaxed on camera. Finally, this course will teach you the importance of makeup for a TV or camera appearance and perfect your media message.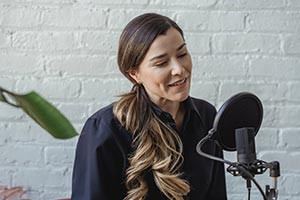 Duration

1.5-3 Hours

Accreditation

CPD
Description
TJ Walker, a world-class speaker and trainer, is a seasoned guest in media interviews, and in this free online course, he will show you the ropes. We will start by introducing the basic concepts of media communication. You will specifically learn how to act and what to do to look your absolute best whenever you have to participate in a media interview or a video recording. But it's not just about keeping up appearances. This course will also guide you through techniques to answer questions and equip you with ways to shape and package your messages with interesting and quotable sound bites. Generally, most people are wary of speaking to the media. Once you complete this course, you will understand how to gain total confidence before any media appearance. You will also know why it's important to say yes to every media opportunity that comes your way.
In media communication, style and body language are just as important as the interview. What is the best position to stand in when taking an interview that requires you to stand? This course will show you and guide you through ways to express yourself while standing during an interview. We will also address the importance of eye contact and why it's crucial for effective communication. And while eye contact helps to convey both emotional messages and establish trust, we'll also provide tips to avoid it from becoming creepy. There might be situations in a media interview where you need to look at both the camera or the reporter. By studying this course, you will learn where to look during a media interview and how to communicate in front of more than one camera. On top of this, we will show you some actions to avoid and body language signals you can exhibit in front of a camera to look like a seasoned TV Pro.
We will also provide you with an overview of dressing and makeup tips for TV and camera appearance. Preparation is essential before heading into a media interview or facing journalists at a press conference. It's also important to anticipate questions as part of your preparation. Positive communication is a vital skill to have in any environment where people interact. However, when it comes to the media, effective communication is an essential component of corporate success. We will show you the importance of emphasizing positive messages in your media communications and the dangers negative messages can cause. Finally, you will learn how to apply the Venn diagram to select important media messages to you, the media, and the audience. This course is helpful for beginners, YouTubers and anyone who is regularly called on for media interviews. Making the most of media appearances is a great skill to develop now. So why wait? Start this course and master the media!
Start Course Now