Mastering the Art of Persuasive Writing
Hone your writing skills with this free online course and learn how to use persuasive words to change hearts and minds.
Publisher:

YouAccel Training
This free online course takes you through practices and principles that can improve your writing. We explain how to employ proven copywriting formulas and strategies before delving into industry tips and tricks. We explore the use of persuasive language to sell products and services or to promote ideas and feelings. This course can inspire you to new creative heights and help you achieve your creative goals, from the boardroom to the bedroom.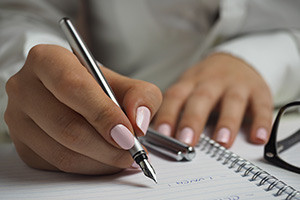 Duration

3-4 Hours

Accreditation

CPD
Description
Words have the power to start wars and topple kings and are only bound by the limits of our imagination. Words remain one of the most potent of humanity's tools and this free online course helps you to master their ability to articulate thoughts convincingly. We analyze the use of language to further professional and personal goals, from your career to your private life. We provide theoretical and practical guides to the mechanics of evocative writing. Copywriting is an impactful form of writing and this course takes you through its role in marketing both products and ideas. We show you how to write excellent sales copy that can change both buying habits and opinions. This course can inspire you to take control of your writing journey by helping you find your voice and purpose as a writer.
The course goes deeper to study the characteristics of an exceptional writer, including the methods used to identify core strengths and weaknesses. We discuss tips supplied by successful writers and unpack various tried-and-tested industry standards used as copywriting formulas. We ground our study in examples and exercises that help you understand both famous and obscure writing 'rules' and dicta suggested by accomplished authors. We also explore the steps to becoming a freelance writer or self-published author. The course then breaks down the work of celebrated industry insiders to help you understand copywriting, brand strategy and content marketing. We pay particular attention to several Forbes columnists as they discuss content writing and strategy. This provides valuable insight that can help aspiring business writers and journalists select the right voice and audience for their content.
Marketing is widely considered a 'demanding' form of writing and offers a crucible in which to test your creative prowess. We break down the use of persuasive writing for marketing to demonstrate the benefits and difficulties associated with such output. We draw on the experience of industry experts to provide solutions to overcoming creative blocks. We then explain how search engine optimization strategies can be used to find the right audience. Finally, we cover content management systems and software that can be utilized by authors to optimize and streamline creative output. This course can sharpen your skills and help you find your voice and niche as a writer. It provides both practical and theoretical tools that have proven useful to those who have gone before and offers the inside track to anyone seeking to follow in their illustrious footsteps.
Start Course Now