Mastering French Grammar and Vocabulary - Revised
Improve your French grammar and vocabulary and become one step closer to your first perfect French conversation.
Publisher:

Joella Andriantsivohony
This free online French Grammar and Vocabulary course is designed to teach you some important French vocabulary and grammar in a clear and step-by-step manner. French, the sixth most spoken language in the world, is nicknamed the "Language of Love" and lauded as the language of the universal ideals used by the philosophers of the 18th century. With this course, you can easily learn this beautiful and rich language.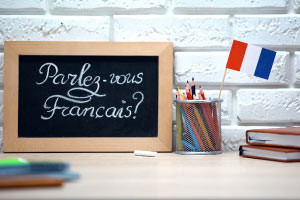 Duration

Hours

Accreditation

CPD
Description
This course will first teach you French vocabulary related to religion, jobs, nature, landscapes, and shapes. You will learn the French names for tools, games, musical instruments, parts of the car, continents, oceans of the world, and nationalities to name a few. You will then look into grammar topics such as comparative adverbs, superlative adverbs, contractions of prepositions, relative pronouns, and demonstrative pronouns. You will also learn the most used French prepositions and study the adverbial pronouns EN and Y.
You will then be shown how to properly use 'depuis', 'pendant', 'pour', and 'il y a' and learn the difference between QUI and QUE. You will also learn how the relative pronouns LEQUEL and DONT are used and when to use the subjunctive in French. This course will also teach you how to conjugate and practice dialogues and conversations such as talking about your job, shopping for new clothes, or booking a flight.
Learning a foreign language enriches the mind and opens up new horizons, both professionally and personally. With French being spoken on all five continents and the third most widely used language on the internet, this is a useful and beautiful language to dive into.
If you would like to get a little better at this incredible language and communicate more effectively with native French speakers, then this course will give you a big boost on your journey. So why wait? Start learning a little more, today.
Start Course Now