Master the Art of Personal Conversations in Portuguese
Discover how to establish meaningful personal interactions in Portuguese with this free online Portuguese course.
Publisher:

Muhammad Elshanawy
Mastering the fundamentals of the Portuguese language can help you communicate with your Brazilian or Portuguese neighbour, friend, or business contact. This free online Portuguese class will assist you in speaking formally by covering the most common Portuguese words and phrases used in personal conversations. Study how to ask questions, start a conversation, and what vocabulary you need in order to have conversational fluency in Portuguese.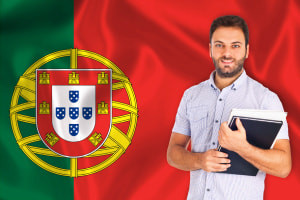 Duration

1.5-3 Hours

Accreditation

CPD
Description
Did you know that if you study the 100 most frequently used words in Portuguese, you may grasp up to 50% of the text? This free online course will help you learn Portuguese and is an excellent place to start learning the fundamental phrases of the Portuguese language used during personal conversations and will teach you the basic phrases and terms that can serve as a basis for further language learning. This online Portuguese course begins by teaching you the words, phrases, and grammar rules associated with asking for the time or expressing the possibility of being late. 
The following section teaches how to create basic yet grammatically correct Portuguese phrases to help you communicate effectively in time-related circumstances. You will learn key terms and vocabulary related to the period, which are beneficial for those learning Portuguese for the first time. The names of various countries, and also their nationalities, are then depicted.
The last part of your Portuguese language learning assists you in obtaining the necessary phrase structure and jargon for interacting in basic Portuguese about your surroundings and travelling about a place. When living and working in the city, you will know how to present yourself using the proper Portuguese words and expressions. Whether you want to learn Portuguese for journeys, hobbies, or a career, the first step is to understand the most rudimentary Portuguese terms and phrases. Enrol in this easy-to-understand course and learn these crucial phrases that will let you participate in meaningful conversations with the locals when visiting or living in Brazil or Portugal, allowing you to enjoy your daily interactions and embrace the culture.
Start Course Now