Marine Electronics - Resistance and Batteries
Learn the principles and basic electrical laws for electronic components in maritime technology from this free course.
Publisher:

ADU
This course on 'Marine Electronics - Resistance and Batteries' offers a comprehensive understanding of the mechanism, principles and applications of electric resistance in circuits and battery maintenance. Sharpen your knowledge and skills on the basics of electrolysis, lead-acid cells, battery usage, resistance and resistivity along with various types of resistors. Register for this course and begin your next learning journey today!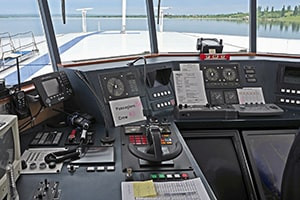 Duration

3-4 Hours

Accreditation

CPD
Description
The maritime engineering field has continuously evolved, enhancing efficiency and effectiveness in operations, some of which have been directed at marine electronics. We have created different applications for various electronic components, including batteries, cells and resistors. Resistors, for instance, play a crucial part in controlling the flow of electric current in virtually all marine electronic circuits found on board boats, ships and vessels. This course seeks to reveal the workings of resistance and batteries applied in marine electronics, applications of which are seen in different circuits onboard ships. These can be essential for the operation of ships and vessels. Discover the technical aspects and other functionalities of non-linear resistors, including thermistors and varistors. Illustrations explaining the voltage-current graphs for these non-linear resistors are also presented in this course to help you better understand important marine electronic components.
This course offers an understanding of the workings, principles and applications of electric resistance in circuits. We will cover basic knowledge of battery usage, applications and properties relevant to marine electronics and we will introduce materials, resistance and resistivity related to types of resistors. Electrolysis, lead-acid cells, types of batteries and the applications of batteries are discussed. This course offers valuable lessons on aspects of batteries relevant to marine electronics, including battery efficiencies and ratings, internal resistance and polarity as well as battery performance and maintenance. We encourage you to identify linear resistors and distinguish other resistors from them. Different techniques and instruments for measuring electric resistance are also well explained. 
Finally, we aim to equip you with a vision of electronics, consisting of basic electronic technology concepts in resistance to the more advanced elements of batteries applied by mariners and people involved in maritime technology. We propose several materials, resistance and resistivity, studying fundamental principles of how resistances work. The course will further introduce batteries and electrolysis, observing how they are involved in energy generation, storage and transmission. Students, researchers, marine engineers and anyone seeking to learn about marine electronics and its different workings will find this course invaluable. Our lives are increasingly dependent on the movement of commodities from our homes to foreign shores. Both use complicated maritime transport technologies backed by electronics. For this important reason, working knowledge of electric resistance and batteries is essential. So, register for this course today and gain a wealth of expertise in resistance and batteries in marine electronics, their workings and applications in relevant marine systems.
Start Course Now