Marine Electronics - Electric Circuits and Components
Learn about electric circuits and electric components relevant to maritime electronics in this free online course.
Publisher:

ADU
Marine electronics are a class of electronics used in the marine environment. This course covers circuits and components of marine electronics and offers an understanding of this area's workings, principles and applications. Explore the rudiments of electrical laws and aspects of electronic circuit elements, including capacitors and inductors. Learn about the concepts of semiconductors, thyristors (SCR), Zener diodes, rectifiers and filters.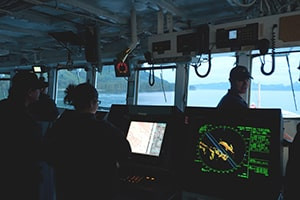 Duration

3-4 Hours

Accreditation

CPD
Description
On board ships, saltwater can be a menace when it comes to electronics. As a result, marine electronics has become a niche market. This course on circuits and components relates to the branch of physics concerned with the design of electronic circuits alongside the application of different components to marine electronics. The relationship between the science of physics and marine electronics technology has facilitated improved designs for ships and vessels. Marine technology facilitated by electronic components includes movement detection instruments like Chartplotter, compass, sonar (or fishfinder) and GPS. These developments all have electric circuit connections and components whose workings, principles and applications are outlined in this course. We illustrate different circuit conditions that give rise to limitations in applying multiple electronic components and ways to mitigate these limitations. We demonstrate the complex electronic components for you to understand potential dividers and voltage dividers easily. This course also explains the circuit concepts necessary for marine electronics, including the impact of resistances arranged in both series and parallel connections.
The course then gives you a basic understanding of electrical laws and aspects of electronic circuit elements, including capacitors and inductors. Semiconductors, thyristors (SCR), Zener diodes, rectifiers and filters are also discussed. Important lessons on aspects of electrostatic-sensitive components like electrostatic discharge (ESD) and the identification of cables and their usage are provided to enhance your experience. This course will help you identify different electronic components and assist you to distinguish each one based on their workings and uses. The different types of series and parallel circuits are also well explained. 
We aim to equip you with an opportunity to study electronics consisting of the basic laws of electricity governing resistance, (for example: Kirchoff's Laws), all of which are applied by mariners and people engaged in maritime. We will take you through an analogy of materials, resistance and resistivity by studying the fundamental principles of how resistances work. Investigate different electric circuits, observing how various factors affect them. Due to the increase in importing and exporting, the need for transport technologies has increased, and marine electronics has become indispensable. Enrol in this course today! Improve your understanding of circuits and components in marine electronics, their workings and applications in relevant marine systems and make yourself invaluable.
Start Course Now