Managing Groups and Individuals
Be one step ahead by learning the modern management techniques used by successful organisations for teams and groups.
Publisher:

Saylor Academy
In this free online course, you will explore groups and individual personalities, and learn what inspires people to want to succeed in the workplace. You will gain a firm knowledge of organisational behaviour and its relation to organisational success. You will be introduced to the concepts of groups and teams, and how to manage them before exploring better communication processes to help you communicate more effectively.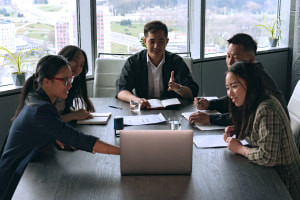 Duration

1.5-3 Hours

Accreditation

CPD
Description
Is there a difference between a 'group' and a 'team'? Certainly! This course will show the differences and explain why they matter when it comes to setting and achieving goals, and determining individuals' performances.
Whether you are working with a group or a team, there are several characteristics that successful groups and teams share including proper group development, the establishment of guidelines and boundaries, leadership, and strong communication channels. In this course, you will learn about these and more. Because so much of business success relies on teams and groups, learning how to properly manage them may be the most important knowledge you take away from this course. As you begin, you will be grounded in a firm understanding of organisational behaviour and its relationship to organisational success. You will also gain an understanding of managing individuals. As you progress, focus on what defines a group and a team. What are the differences? What are the similarities? Are all groups the same? What are the cross-cultural influences on groups? Finally, what are the stages of group development? You then continue with the study of groups by learning about the types, characteristics and cohesiveness of groups. Think about what makes a group? What type of interaction is required to make a group? What types of goals must be shared? How many members make up a group? What other factors must be present to make up a group?
After the first module, you should be ready to learn about teams. As you go through the module 'Managing Groups and Teams', try to compare and contrast the features of groups and teams. What are some of the barriers to team effectiveness? What are the features of high-performance teams? Learn about how to design an effective team, as well as the link between diversity and team composition. The last module will mainly focus on communication channels: you will see why communication is key to organisational effectiveness. What are the components of the process of communication? What are the key functions of communication? What are the primary types of communication? Think about how the process of communication impacts the performance of groups and teams. All of this information will make you a better leader and manager in every aspect of your life, especially your career.
Start Course Now