Learn Real Portuguese Grammar
This free online course will teach you all you need to know about speaking Portuguese in a grammatically correct manner.
Publisher:

Muhammad Elshanawy
Were you aware that the sixth most widely spoken language in the world is Portuguese? This free online Portuguese course will ensure that the next time you speak Portuguese, you are grammatically perfect and do not say anything that could embarrass you or confuse the person with whom you are speaking. Getting Brazilian Portuguese correct is quite intricate and this course will get you chatting confidently in no time.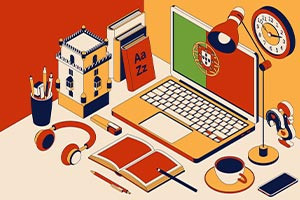 Duration

6-10 Hours

Accreditation

CPD
Description
The majority of Portuguese learners believe that Portuguese grammar is difficult because it differs significantly from English grammar. This Portuguese course seeks to dispel this notion by teaching you how to tackle the subtleties of Portuguese grammar systematically. You will discover some of the most commonly used regular and irregular verbs and the process of employing them appropriately based on their tenses. The eleven pronouns used in Brazilian Portuguese are also discussed, including how to change a verb's form based on the last two letters of the verb to ensure grammatical accuracy. It starts with the simpler tenses, such as the Simple Present tense, and gradually progresses to the Subjunctive and Past Perfect tenses.
Each module in the course teaches you how to conjugate regular and irregular verbs according to the rules for the tense in question. You will also understand how to create a phrase negative by adding the word "no" after the pronoun or subject. The process of expressing an opinion is presented through examples to help you understand the rules of the relevant tenses. As you learn new words and practise saying sentences, the course will assist you in improving your pronunciation. The chapters build on one another by beginning with simple words and then moving to more complicated phrases and sentences.
There are numerous compelling reasons to study Portuguese. Learn Portuguese, broaden your horizons and improve your life by allowing you to appreciate Portuguese music and study abroad. In some of the world's most well-known tourist spots, Portuguese is spoken and if you enjoy stunning beaches or fascinating jungles, studying Portuguese can help you get the most out of your next trip to Brazil. Brazil's economy is the world's eighth-largest, guaranteeing that it plays an important part in global trade. As a result, learning Portuguese could give you a competitive advantage in the business world. With all of the exciting opportunities that learning Portuguese can provide, why not enrol in this course and discover this beautiful language?
Start Course Now