Landscape Photography - Exposure, Composition, and Editing
Learn how to capture beautiful images and edit them like a pro using Adobe Lightroom with this free online course.
Publisher:

Matthew Storer
This free online course, Landscape Photography - Exposure, Composition, and Editing will teach you step-by-step practical procedures of finding the right exposure and composition for your images. We want to make sure that we get the best out of our composition given the crucial role composition plays in photography. This course will endow you with knowledge on how to edit images like a professional using Adobe Lightroom software or other software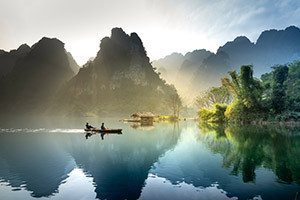 Duration

1.5-3 Hours

Accreditation

CPD
Description
This free online course will expose you to more than the traditional way of just clicking the snap button to capture images. There are skills and techniques that are fundamental in producing quality images. Photography in these modern times requires a meticulous understanding of the basic and unique features of a camera and its components and how to rightly set the camera to capture beautiful images. You will learn in detail about histograms and the principle of exposure. You will learn the importance of natural light to images and how this light greatly impacts the image captured. You will learn how to maximize light for greater productivity. You will learn how to shoot in the sunset with a single exposure compared to multiple exposures. There is a composition guideline in the positioning of the subject to focus on, as you continue with the course, you will learn more about this under the Rule of thirds. You will learn the principle of leading lines in this course and its relationship with diagonals in photography. Scaling and lighting are elements that can be utilized to make good images, you will learn ways of achieving scale using different focal ranges and framing.
Photography is vast, and this course has uncovered many salient features that can set you apart in this field. In this course, you will learn about wide-angle photography its central point which has to do with focusing. The skill of knowing what composition makes up a capture depends on what the photographer wants, you will learn telephoto photography, which focuses on key subjects in the scene. You will learn the focus stacking technique where you have taken multiple images with a different focus, this technique can produce a very good image when worked on at the post-production level. You will be thrilled to learn panoramic techniques, where you have multiple shots combined to form a good image. You will learn minimalistic photography in this course. One thing is to get the images captured on the field; another is to put them together at post-production. This course won't end without acquiring the skill set on post-production to put finishing touches on all the images taken on the field.
This free online course is a one-stop course for taking your photography to the next level. The arrangement of the topics is systematic and helpful. There are so many details and practical aspects to glean from. Achieve another milestone in your photography career by enrolling in this course. Just click the start button and become the best you can be as a nature and landscape photographer.
Start Course Now