Landscape Photography - Equipment Basics, Focusing and Filters
Bring your photography passion and learn how to achieve stunning nature and landscape images in this free online course.
Publisher:

Matthew Storer
If you love photography and are keen to learn ways in which you can improve your images, then this free online Landscape Photography - Equipment basics, Focusing and Filters course is the perfect place to start. This online photography class teaches you in basic terms, all the necessary skills, techniques, and practical in-field experience that you will need to succeed in your career as a landscape photographer.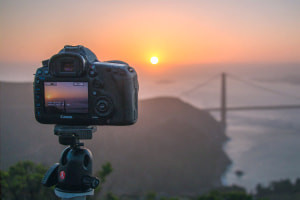 Duration

1.5-3 Hours

Accreditation

CPD
Description
Landscape photography is the art of capturing images from nature or outdoor life. In this free online photography course, you will start by learning about the basic equipment and other accessories required for landscape and nature photography. The first part includes camera purchasing where you will learn about camera types, considering your budget, purchasing a camera body vs a camera, and megapixel and sensor size options before moving on to learning about tripods and related accessories. The next piece of content covers the principles of filters, their types and features. In order for you to master the art of photography, you need to understand the physical features components of a camera and this photography certificate delves deep into the working principles of a camera and how the elements of ISO, shutter speed and aperture work together to make exposure in images.
There are lots of techniques that one could easily ignore in photography but having an understanding of as many of them as possible can boost the quality of your images. The histogram is one such technique which displays all the information when capturing an image - this can be useful in a range of different settings. Another important point to consider as a photographer is image format and the two specific formats that are covered in this photography guide include the JPEG (JPG) and RAW formats. Some other key themes that you will learn about are focus, dynamic range, metering mode, and how filter effects can be applied to get the best out of your camera and images.
This course is not just theoretical, it is designed with practical video tutorials that carefully demonstrate the techniques and methods explained in the various lessons. The course instructor also provides some high-quality images shot by himself that allows you to assess and compare image quality in order to improve your own capturing and editing skills. Photography is a fascinating adventure to embark on and by applying the techniques and skills learned in this free online photography course, you can take your knowledge and end-product from great to absolutely breathtaking. If you are a budding photographer or someone with basic photography knowledge and want to add technical proficiency to your skills, then enrolling in this simple, engaging, and fun photography course will help you stand out in the photography field and help you achieve your career goals.
Start Course Now