Landscape Photography - Equipment Basics, Focusing and Filters
Learn how to achieve stunning output in nature and landscape photography with this free online course
Publisher:

Matthew Storer
This free online course, Landscape Photography - Equipment basics, Focusing and Filters teaches you in basic terms, all the necessary skills, techniques, and practical in-field experience that you will need to succeed in your career as a landscape photographer. If you are starting out as a nature and landscape photographer or you are already a landscape photographer desiring to stand out in your career, then you are right on track.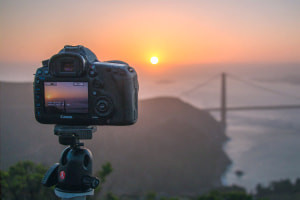 Duration

1.5-3 Hours

Accreditation

CPD
Description
Landscape photography is the art of capturing images from nature or outdoor life. In this free online course, we put into consideration the equipment required for landscape and nature photography and other accessories and compositions that combine to make the best of images. One of the key lessons you will learn in this course is knowing what you need a camera for and having it purchased within your budget. It is preferable to spend less on the camera body and more on the lenses because this is the most important equipment in photography. You will be on the right path to learning the principles and types of lenses needed in nature and landscape photography. This course will also afford you the knowledge of megapixels and sensor sizes of cameras. In this course, you will understand the factors to consider when acquiring lenses, which will enable you to choose lenses that best suit your photography needs and fits within your budget. Tripod is another basic equipment in photography needed to make quality pictures, so you will learn the types and their features. Filters add wonderful features to photography, you will also learn the principles of filter, types, and their unique uses. Asides from the physical features of the camera and other components and equipment, you will be trained on the working principle of the camera, to make you outstanding in your photography career. You will learn the exposure triangle in detail which consists of these three elements: ISO, the Shutter speed, and the Aperture. You will learn how these three elements work together to make exposure in images.
There are lots of techniques that one could easily ignore in photography but having an understanding of such skill could boost the high and quality production of images. An example of such a technique covered in this course is a histogram, which displays all the information when capturing an image. For landscape photography, the overall evaluation of the image is preferred and this will be covered under metering mode. The format in which images are shot is very crucial, either in JPEG or RAW format. There are many overlooked features in photography, you will learn in this course to add to your skill the importance of dynamic range. You will also learn the most important aspect of photography which is focusing. You will learn the importance of focusing not just on landscape photography as this is applied to all fields of photography. Lenses are key factors to consider when looking at focusing. There are techniques achieved while taking a shot and some in post-production, filter effects can be achieved in the camera and you will learn about filters and the right choice to make for a very quality end product.
This course is not just theoretical, it is designed with practical in-field video tutorials corroborating the techniques and methods explained in the lessons. Also, the course provides you with access to high-quality images shot by the instructor himself, this will enable you to assess and compare the quality of your works and make improvements where necessary. This will be the most fascinating adventure to embark on if you are keen on upping your photography skills. This course is simple, elaborate, engaging, and fun. The skill you would gain in this course is invaluable and will be worth the time. Have you ever wondered how to stand out in your photography career or even as a hobby? You're a click away from achieving your dream, hit the start button, and get started today!
Start Course Now