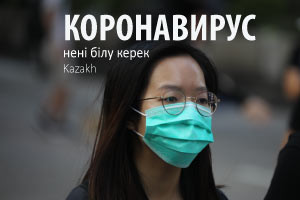 Коронавирус - нені білу керек (Kazakh)
-
Learners already enrolled
This Free Online Course Includes:
Hours of Learning
CPD Accreditation
Final Assessment
Start Course Now
COURSE PUBLISHER
Published by
-
Коронавирус - нені білу керек (Kazakh)
Бұл тегін онлайн-курс Covid-19 коронавирусының маңызды аспектілерін қарастырады
Коронавирустың (Covid-19) жаңа ақысыз онлайн курсы...
Коронавирустың (Covid-19) жаңа ақысыз онлайн курсы жаңа коронавирустың тарихы, таралуы, белгілері, ықтимал емі және алдын-алуға бағытталған. Халықаралық реакцияның бөлігі ретінде Элисон адамдарға коронавирус романы, оның пайда болуы туралы және сізге, сіздің отбасыңызға және қоғамға қандай қауіп төндіретінін қалай білуге болатындығы туралы ақысыз онлайн курсын жасады.
Read More
In This Free Course, You Will Learn How To
View All Learning Outcomes
View Less
Complete This CPD Accredited Course & Get Your
Certificate

!
Certify Your Skills

A CPD accredited Alison Diploma/Certificate certifies the skills you've learned

Stand Out From The Crowd

Add your Alison Certification to your resumé and stay ahead of the competition

Advance in Your Career

Share your Alison Certification with potential employers to show off your skills and capabilities
Learner Reviews & Feedback For Коронавирус - нені білу керек (Kazakh)
View More Reviews
Back to course information
About Your Alison Course Publisher
- Alison Stats
- Alison Stats
- Learners
- Courses
- Learners Have Benefited From Their Courses
Read More
More Free Online Courses by This Publisher
Learners Who Took This Course Also Enrolled In