Japanese for Beginners
This free online course teaches basic Japanese vocabulary and grammar used in simple everyday conversations.
Publisher:

Stay Curious Media Ltd
Japanese is widely considered an aesthetically appealing and friendly language. Many foreigners are interested in learning Japanese due to its cultural spread. If you are intrigued by Japanese, this course will help you begin your journey to understanding, speaking and writing Japanese with ease and confidence. You'll study the major writing script styles and the most common words in Japanese to help you hold simple conversations. Enrol today.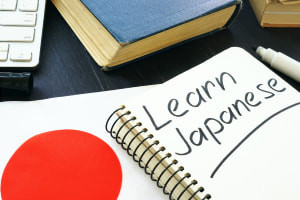 Duration

1.5-3 Hours

Accreditation

CPD
Description
Did you know that there are about eight different languages spoken in Japan? Of these eight, Japanese is the most widely spoken and is the official national language. Over 120 million people around the globe speak Japanese. If you want to learn this beautiful language, you are in the right place. This Japanese language course is designed by Stay Curious Media, which specialises in online education and focuses on developing and publishing online courses designed and developed by subject matter experts. It will equip you with the necessary information and skills to understand and carry out basic conversations in Japanese. First, you will discover three different writing script styles in Japanese and the significance and use of each writing script style.
One of the most important things to do in any interaction is to introduce yourself. There are different ways to introduce yourself in Japanese. You will learn the different phrases and pronunciations to introduce yourself as a native. You will explore the various ways to greet or address others politely and respectfully. Understanding numbers in any language is necessary. The next topic will focus entirely on numeric formations in the Japanese numbering system. Then, you will discuss foods and learn the names of different fruits, vegetables and other meat and dairy products. You will know how to write simple sentences and ask questions using your new vocabulary.
Learning to tell the time in its present, past and future forms in a new language is a significant achievement for anyone. In the final section of the course, you will learn how to tell and write the time and dates. It will teach you the Japanese words for the twelve months and days of the week and terms for different objects in a household or the office like books, chairs, etc. You will then be introduced to Japanese 'particles' (short words) and learn how to use them effectively in writing and communication. This course is suitable for anyone who wishes to learn the fundamentals of Japanese and hold simple conversations. Take advantage of this opportunity to learn a new language and register today!
Start Course Now