Italian for Beginners
Learn how to communicate efficiently in Italian with hands-on exercises and practices with this free online course.
Publisher:

Stay Curious Media Ltd
Have you ever wanted to learn Italian? Then this is the perfect starting point for you. You will start with the basic vocabulary words in Italian such as greetings, numbers, colours, and the alphabet. As you continue with the studies, you will learn about the Italian sentence structure as well as conjugate verbs in Italian to make it easier to communicate. Start this free online course and learn to read, write and speak Italian in a few hours.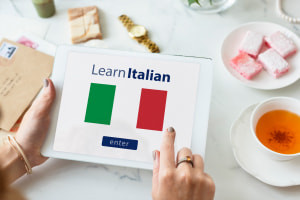 Duration

1.5-3 Hours

Accreditation

CPD
Description
Spoken by over 85 million people, being the official language of classical music and surviving for over a thousand years, Italian is one of the most studied languages in the US. Learning Italian will not only help you as a tourist in Italy or Switzerland but also as a rising professional looking to expand and diversify your business in the global market. Also, as a romance language, Italian is very similar to other languages in the same family like Spanish, French, and Portuguese. Through this language, you will actually be able to understand the speakers of these other romance languages. To start, you will be introduced to the everyday vocabulary in Italian to help you communicate well when you meet someone. You will begin with greetings and how to introduce yourself in Italian. Then, you will learn some manner vocabulary words in Italian before progressing to numbers and colours. You will also be taught the masculine and feminine versions of some colours. Furthermore, you will study how to pronounce some foods and animals in Italian. To help you spell Italian words correctly, you will be introduced to the Italian alphabet.
As you progress, you will learn how to form sentences with what you have previously learned. In Italian, there are three types of verbs, The verbs ending with -are, -ere and -ire. You will study each type in great detail. Also, since conjugation plays a very important role in most languages, you will be learning how to conjugate verbs in Italian. Then, you will explore some regular and irregular verbs, as well as plural and singular nouns and adjectives. Moreover, you will be taught the days of the week and months of the year in Italian. How to form sentences with them will also be covered. Thereafter, you will discover how to say the time in Italian and be given some exercises to practice. Additionally, you will explore how to express or form sentences using origins, religious, and political vocabulary words in Italian.
Furthermore, you will learn about the family tree in Italian. You will be taught how to name each family member from the great grandparents to the grandchildren in Italian. Then, you will study some adjectives used for human emotions and discover that most of these adjectives have 4 options. The singular, plural, feminine and masculine versions. Thereafter, you will cover the basic parts of the human body. The plural and singular forms of each part will be highlighted. Moreover, you will be given some adjectives in Italian to help you when describing someone's physical characteristics and personality. Additionally, you will be provided with some useful vocabulary words to help you with directions and the identification of places in Italian. Throughout your studies, you will participate in numerous exercises and examples to help you understand and practice what you are being taught. Start learning Italian now and create an amazing opportunity for yourself.
Start Course Now