Introduction to Transport Layer and Network Security
Learn more about encryption, transport layers, network security and troubleshooting with this online networking course.
Publisher:

NPTEL
Computers are ubiquitous in modern life and the best way to stay on track and ensure you aren't being exploited is to learn about network security. This course will teach you about the 'transport layer' that is involved in computer networks and what it is used for. Encryption and port numbers may be terms you are vaguely familiar with but by the end of the course, you'll be a network pro!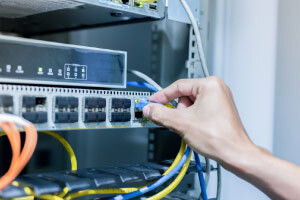 Duration

5-6 Hours

Accreditation

CPD
Description
This course will teach you about the two types of transport layers: the connection-oriented protocol (COP) and the connection-less protocol (CLP). Transport layer security or TLS is a way to secure information as it is carried over the Internet and without which our personal information would be available to anyone and everyone. On top of this, you'll learn about UDP (user datagram protocol), which lets computer applications send messages, known as datagrams, to other hosts on an Internet protocol network.
The most essential part of encryption is changing information from a readable format for humans to an encrypted version using mathematical functions. This will be an essential part of this course to get to grips with along with learning how port numbers help communication flow between applications.
Other elements of computer networks that are taught in this course include routing, dynamic routing and Cisco Packet Tracer. If the words you're reading sound familiar and foreign at the same time, don't be daunted! Anyone can learn a new language and that's what learning these abbreviations and functions is all about. If the idea of a tool that allows users to create network topologies and imitate modern computer networks excites you, then create your free Alison account, enrol and take it one step at a time. Build your confidence in computer networks with this course today.
Start Course Now