Introduction to Molecular Cloning
This free training course on Alison takes you through the concepts, processes and significance of molecular cloning.
Publisher:

NPTEL
In this free online cloning course, you will acquire comprehensive knowledge of the fundamental processes involved in molecular cloning. Learn about the preparation of genetically modified organisms and the different approaches for the isolation of genes of interest. The course introduces some reagents which are important in the polymerase chain reaction. By the end of the course, you will be familiar with roles and importance of cloning vectors.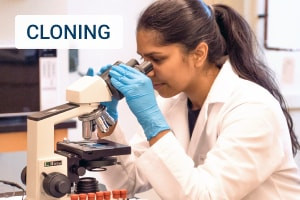 Duration

3-4 Hours

Accreditation

CPD
Description
Introduction to Molecular Cloning' is an online training course that begins by discussing the procedure for isolating specific genes. You will learn about the various approaches which can be used to isolate genes under different scenarios. You will also be able to explain the construction of a genomic library. The screening process of the genomic library and the cDNA library will be made clear. Therefore, the different analytical tools which can be used for the process of screening will be analyzed.
The course then explains the development and history of the polymerase chain reaction as well as the different events required when setting up the reaction. You will learn about DNA replication and primers. You will become familiar with the technical aspects of the polymerase chain reactions as well as the reagents which are important for this to occur. You will gain an understanding of the process of primer designing.
Furthermore, you will learn about the enzymes involved in molecular cloning as well as their respective functions. You will be familiar with the importance of adaptor molecules and the restriction-methylase system. Finally, you will be introduced to the transforming agents known as cloning vectors and the determinants of a good vector. This free online course will be of interest to students, researchers, and anyone with an interest in the field of genetics. So, register for this course and start your next learning journey today. 
Start Course Now