Beginner Media and Culture - Revised
How have mass and new media evolved, and how do they affect society? Enrol to find out more in this introductory course.
Publisher:

Saylor Academy
This course will teach you the basic theories of mass media and new media, the different ways media affects culture, and the evolution of media over time. Mass media refers to the technology that reaches a large audience, while new media refers to forms of mass media that involve digital technologies. Start this free online course today to gain essential information for anyone considering a career in media.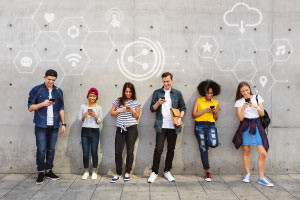 Duration

Hours

Accreditation

CPD
Description
The material begins by discussing the events that influenced the evolution of mass media. You will study the five kinds of media convergence, and how they affect culture and society. The course reviews the role of the 'gatekeeper' in mass media and the influence of 'tastemakers' in traditional media. You will also tackle media literacy and learn its relevance to today's world. Mass media and new media affect culture in many ways, and this fascinating course will discuss the most important media theories to help you better understand how different types of media can influence audience interpretations and society at large.
Next, you will be guided through how the media can have a major impact on the political opinions of an audience, and how this knowledge can be used properly and improperly. Media is a major source of entertainment and information, and it is also a major factor in shaping how people communicate with each other. The easy-to-understand material will help you better comprehend the relationship between media and culture, and how they impact society.
If you're interested in media studies as a future career, or if you're a media professional seeking to gain new knowledge, then this clear and simple course is the one for you. Knowing about the different ways media affects culture and the evolution of media over time is essential information for any media professional. So start this free course today, and you'll gain this important knowledge in just three hours.
Start Course Now