Introduction to International Business
Master the principles and practices involved in international business and finance with this free online course.
Publisher:

NPTEL
This free online course teaches you the challenges of international business and how to meet them. We take you through the best principles and practices of trading across borders. We also break down current trends of International marketing to help you find new markets. This business management course can boost your finance skills by explaining the unique problems and opportunities posed by moving money, goods and services between countries.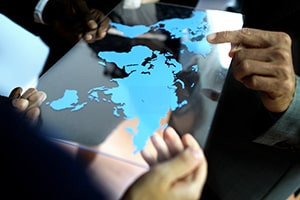 Duration

1.5-3 Hours

Accreditation

CPD
Description
This free online course introduces you to the intriguing world of international business. We show you how companies make use of economic, cultural, political and legal differences between countries to maximize profits. We explain how 'direct exporters' produce products in their home market before selling them abroad, while 'indirect exporters' use a third-party intermediary. We then unpack the concept of 'counter trading', which involves the exchange of goods or services instead of currency.
The course provides an overview of the factors contributing to the rapid growth of international business that illustrate its importance to big corporations. We then unpack the concept of 'piggybacking', where quality goods are sold by intermediary firms, which presents a viable alternative for firms with limited exporting capabilities, resources and knowledge of foreign markets. We define 'licensing' as an agreement for the use of a product in exchange for a license fee and demonstrate how it can boost profits. The course breaks down complex ideas like business process 'outsourcing', which refers to delegation of peripheral activities of the organization to an external body to minimize costs and increase efficiency. We explore the process whereby a firm that possesses technical skills or management know-how can expand overseas by providing its managerial and technical knowledge on a contractual basis.
We then delve into the practice of 'franchising', which gives someone the right to use someone else's trademark and business processes within certain limits. The course lays out the complex relationship between all parties to give you the option of pursuing this lucrative business practice. We define the term 'entrepôt' as the importation of goods not for consumption but for export to another country. Finally, we study the different types of external trade, the modes of entry for international business, choice of entry and the external factors and organizational systems that define it. This course suits aspirant business students or anyone keen to break into the lucrative and exciting business of trading between countries.
Start Course Now