Introduction to Games Development with HTML5 and JavaScript
Learn how to create your own version of online games using HTML5, JavaScript, and the Apache Cordova platform.
Publisher:

Channel 9
This free online games development course focuses on HTML5 and JavaScript, and will teach you everything you need to know to create video games with HTML and Javascript. During the 1960s, the very first video game was developed on mainframe computers over a period of several years. With modern technology, games can be developed much more easily by amateur developers who have a little training. Check out this free online course, and get started.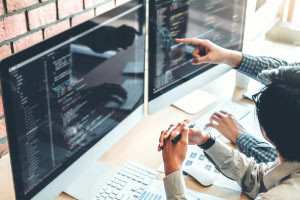 Duration

1.5-3 Hours

Accreditation

CPD
Description
This course will first introduce you to Apache Cordova, a platform for building native mobile applications, as well as Enchant.js, an open source game engine. You will learn how to install Cordova in your Visual Studio environment, start your video game project, and modify and remove unnecessary codes from the default templates. The course will also discuss how to create a map file and a 2D array where you can store your maps data.

You will then learn how to set up your own game map and load sprite sheets so you can put movable character images into your game. The course will also cover mapping controls so you can easily set controls on the player character that you have created. Finally, you will study how the built-in functions of Enchant.js work to detect collisions, as well as learn how to create attributes or statistics for your player character and display them on screen.

People of all ages enjoy playing computer games, and the market for this industry is truly massive. With all of those different consumers out there, the demand for new, exciting, and functional games is high. If you can gain the skills necessary to build quality games, you will have a career for life. This course is designed to help you do just that. So why wait? Check out the course today, and learn how to create high quality games in just a few short hours.
Start Course Now