Introduction to Functions of FileZilla and HTML DOM
This free computer course breaks down the FileZilla interface and looks at CSS, HTML DOM and webpage development.
Publisher:

YouAccel Training
If you are interested in learning about the features of the FileZilla interface and HTML DOM, then this programming course is for you. You will learn about the steps involved in creating a production server, the differences between ordered and unordered lists, and the three elements of CSS rules. It also teaches you about the functions of divs and DOM, along with the types of CSS position properties.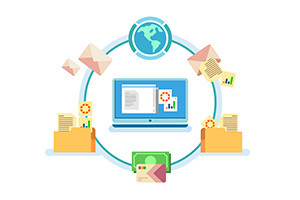 Duration

4-5 Hours

Accreditation

CPD
Description
This course has been specifically designed to teach you about the different elements and functions of CSS (cascading style sheets) and HTML DOM (document object model). FileZilla is an FTP (file transfer protocol) agent. You will be introduced to the step-by-step process involved in downloading FileZilla. Did you know that the interface is divided into multiple sections? You will learn about the contents and functions of each section. The differences between unordered and ordered lists will be highlighted. See how to insert images in different sections of an HTML page. Absolute references, as well as file references, play a key role when working with images and you will be able to explain their differences. Creating links in an HTML document can be challenging: on completion of this course, you will be able to create both text and image links.
HTML (HyperText Markup Language) plays an important role in the display layout of a webpage. This course explains the functions and features of HTML. The page structure of a basic HTML document will also be analyzed. Did you know that there are different types of tags? You will learn about their differences. It is necessary to understand table structures before building webpages. You will become familiar with the elements, as well types of tables, available. There are multiple attributes you can use when working with tables in HTML. Did you know that you can create an input form using HTML? This course helps you understand the processes involved in achieving this. POST and GET serve as channels for transmitting data. Discuss their functions and differences in data transmission. 
CSS rules consist of three parts and you will become familiar with the features of each. At the end of this course, you will also be able to analyze the three types of CSS styles. Divs are another part of CSS development and you will study their function and features. There are multiple style declarations in CSS - you will learn about the features of each and the appropriate time for usage. This course will be of interest to web developers and anyone wanting to understand web development processes and server setup.
Start Course Now