Introduction to Emergency Operations and Safety at Sea
This free online course teaches emergency operations, maneuvering methods under various conditions and safety at sea.
Publisher:

ADU
This course introduces you to emergency operations, safety actions and procedures to take in case of an emergency at sea. You will learn about the anchoring process, different search patterns, the effects of tug, as well as emergency steering. You will investigate the process and concept of man overboard, how to locate the casualty and the recommended man overboard manoeuvers to apply in such a case and possibly save a life.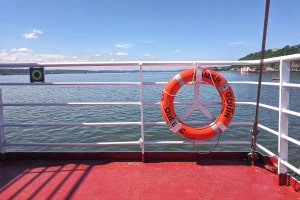 Duration

3-4 Hours

Accreditation

CPD
Description
There are different manoeuvring methods you can use when there is an emergency at sea. This course teaches you the appropriate strategies and search patterns to apply during a crisis and improve safety at sea. We explain the theoretical knowledge behind the safe operation of vessels in different weather conditions. You will develop your skills and provide the necessary principles and practices in emergency cases. This course comprises two modules alongside various topics broken down with accompanying media illustrations to give you a comprehensive understanding of the anchoring manoeuvres in different conditions. Explore manoeuvres in various situations such as calm, deep, windy conditions or a current with the wind abeam. We teach you about the recommended cable lengths needed for anchoring and its dependence upon the nature of the sea bed and the strength of wind and current.
This course then explains the IAMSAR manual, which provides guidelines for common aviation and maritime approaches to organize and provide search and rescue (SAR). We highlight the purpose of the IAMSAR manual, which includes assisting states in meeting their own SAR needs. You will learn about fulfilling obligations accepted under the International Conventions. We explain how to provide guidelines for common aviation and maritime approaches. Learn how to search a large area when survivor location is uncertain and the search patterns recommended by the IAMSAR manual. Research the various circumstances in which you can apply these search patterns. We introduce you to berthing and unberthing manoeuvres under different conditions. We discuss berthing with the help of different numbers of tugs and how you can approach them.
Furthermore, this course explores several recommended man overboard manoeuvres. We describe when to use the most appropriate one in the prevailing circumstances. We outline immediate action, delayed action and person missing for varied occurrences. This course explains emergency steering as a system used during the failure of the primary steering system. We clarify the emergency steering operation and the periodical checks required. Also, you will learn about auxiliary steering procedures, their arrangements, emergency operations, emergency regulations, drills and testing carried out at sea. We illustrate the effects of the pivot point and transverse propeller thrust and function necessary for vessel handling. This free online course will be of great interest to students, researchers, and anyone interested in understanding how to carry out emergency operations and safety at sea. So, register for this course today!
Start Course Now