Introduction to Electrical Technology
Learn about safety methods in handling equipment and various electricity sources from this free online course.
Publisher:

ADU
Knowledge of safety procedures to prevent electrical shocks and accidents is essential. Introduction to Electrical Technology is a free online course that provides an in-depth guide to enhancing your skillset for handling electrical equipment and analyzing electricity sources. You will also get to learn about the electrical components of resistance, conductance and inductance. Enrol today to learn all about the basics in electrical technology.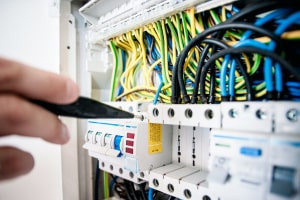 Duration

5-6 Hours

Accreditation

CPD
Description
Introduction to Electrical Technology is a free online course that provides a comprehensive and illustrated guide to gaining a foundational understanding of handling electrical equipment and analyzing electricity sources. It will teach the basic requirements for avoiding the dangers associated with lifting equipment and other electrical components. The material begins with a discussion of the various types of dangers due to lack of safety, artificial respiration methods, and bodily injuries when lifting equipment. It goes on to explain the ways out of such types of dangers including electrical fires and shock. This is very important in preventing the occurrence of emergencies and the facilitation of first aid. You will also learn about the causes of various hazards in the use of electrical equipment and the precautions required for the proper safety of individuals as well as their property. These learning points are crucial for every electrician and technician dealing with electricity.
You will learn about electricity sources from the concepts of electromotive force (EMF), voltage, current, DC sources in series and parallel, and the polarity of AC and DC sources. This forms a foundational requirement for learners involved with electronics. You will also discuss the property of resistance along with the series and parallel connection of resistors and voltage divider circuits. Then, you will study inductors from the unit of inductance, solenoid construction, and the series and parallel connection of inductors. Finally, the course concludes with an analysis of capacitors from the functions of a capacitor, factors that determine the capacitance value, and the calculation of capacitance in series and parallel connections. An understanding of these fundamentals allows learners to understand the applications of electrical concepts. Especially for electronics closest to us like the remote control in our homes or the projectors in our offices and even the fundamentals of batteries we have all around us.
This free online course will teach you the prerequisites of handling electricity with care as chances of accidents with electricity are higher if people with less experience and knowledge handle it. You will also learn about tricky aspects of electricity that learners find hard to grasp at fundamental levels such as direct and alternating current. Upon the successful completion of this course, it is expected that you would be able to distinguish between basic electric components. This course will be of significant interest to electrical engineering students, electricians, engineers, researchers and anyone with a need to understand the workings of basic electrical systems. Don't miss the chance to learn about being a good professional in safely handling basic electronic components like resistors, inductors, and capacitors. What are you waiting for? Begin your learning journey into the basics of electrical technology with extra interest in the safety and handling of electrical components today!
Start Course Now