Introduction to Dog Agility and First Aid for Pets
This free online course teaches you dog training, dog agility, and pet first aid techniques and skills.
Publisher:

One Education
Have you ever wondered what dog agility is or considered learning how to train your dog to do fun tricks? Learning about dog agility and health is a great place to start! Dog agility is a sports activity for your dog. It is a fabulous way to exercise your dog and train them concurrently. This course is an excellent opportunity to start learning about dog agility, taking care of your pet from a health perspective, and preparing for emergencies.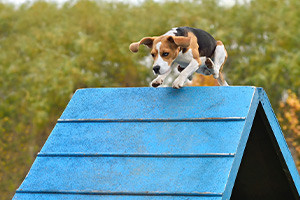 Duration

1.5-3 Hours

Accreditation

CPD
Description
Owning a dog comes with many responsibilities, and a crucial part of being a dog owner is keeping your dog happy and healthy. And, just like parents of children would explore extracurricular activities to stimulate development, dogs owners can explore similar programs. One of these programs is dog agility, which could be described as a dog sports activity and has many benefits. Along with keeping your dog fit, strong, and confident, dog agility allows you to release excess energy from your dog, spend time with them, and train them simultaneously. In addition, it is a great way to establish a connection between the dog and owner and will introduce you to the world of dog sports.
This course introduces you to dog agility, explaining it and showing you the benefits that you and your dog might enjoy from participating in such an activity. We will discuss key points to note before starting on this journey of training and explain the importance of learning your dog's body language. Besides these details, reading these signals is an integral part of knowing and communicating with your pet. You will also learn the basics of physical training and awareness of your dog's health. The next section of this course looks at more advanced techniques in training your dog, specifically around competition. Here, you will study the foundations for any good agility course, the different types of obstacles, how to implement them, and why they matter. When training your dog, it is also essential to consider their health and concerns that might arise. This course will address these matters.
The last section of this course covers first aid for pets. First aid knowledge should be essential for any dog or pet owner. This course will explain and list what might be necessary to keep in the house for emergencies with your pet and the primary treatments you can apply. You will gain valuable skills such as CPR for your pet and learn how to implement this type of treatment in a crisis. In addition, you will discover how to deal with different problems related to breathing, handling injuries such as fractures, and looking after your injured animal. Finally, the course suggests general tips on taking special care of your pet and the best way to look after them in different circumstances. If you are a dog owner or have any interest in dog training and care for your pet, this course is for you! You will learn vital skills to keep your furry friend happy and healthy and aid in improving their life.
Start Course Now