Introduction to Chromatography System
Learn the basic concepts, types, and procedures of the chromatography system from this free online training course
Publisher:

NPTEL
This free online training course on chromatography provides a comprehensive knowledge of the different steps involved in product processing as well as the purification and isolation of protein. Learn about the important techniques in chromatography from gel filtration chromatography to the concept of affinity chromatography. By the end of the course, you will be familiar with bio-affinity and pseudo-affinity chromatography approaches.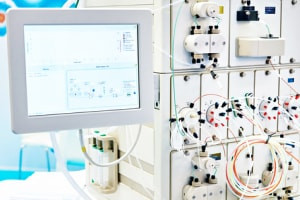 Duration

3-4 Hours

Accreditation

CPD
Description
Introduction to Chromatography System is a free online training course that begins with an introduction to the procedure for the extraction of products from overexpressed cells. You will analyze the different steps involved in product processing and the various methods of cell disruption. You will also discuss the purification and isolation of the protein of interest, as well as how the separation techniques work in the case of chromatography techniques. You will also learn about the concept of resolution.
The course then explains the components of the chromatography system as well as the processes involved in the chromatography system. You will learn about the chromatogram and the different properties that are present in the protein molecules. You will also study ion-exchange chromatography, the types of ion-exchange chromatography, as well as its mode of operation. Next, you will be familiarized with the processes involved in hydrophobic interaction chromatography.
Furthermore, you will learn about gel filtration chromatography and its appropriate matrix. The course then analyzes the concept of affinitive chromatography. You will also be able to explain how to couple the receptors in order to prepare an affinity column and the generation of antibodies. This free online course will be of immense interest to students, researchers, and anyone with an interest in the processes and applications of biotechnology. So, register for this course and start your next learning journey today.
Start Course Now