This free online business accounting course teaches you the basics of professional bookkeeping. In this course you will be introduced to accounting and business, the account equation, and the preparation of a worksheet. You will learn how to analyze transactions, enter information, and adjust entries and summaries. You will also study financial statements, the fiscal year, the process of completing the accounting cycle, and more.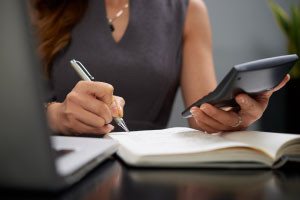 Duration

6-10 Hours

Accreditation

CPD
Description
This course, Introduction to Business Accounting, will provide you with an understanding of the basics of business accounting. You will begin with an introduction to professional bookkeeping, covering the basics of bookkeeping professionally. You will be able to define a business, understand ethics in accounting, and discuss generally accepted accounting principles. You will also learn about the accounting equation, transactions, and financial statements.
This course then explains the process for analyzing transactions. You will learn about the double-entry system and journalizing transactions. You will also learn about entering information, including posting entries, the trial balance, and finding errors using horizontal analysis.
This course then wraps up explaining the adjustment process, adjusting entries, and the adjustment summary. You will learn how to prepare a worksheet and build financial statements. By taking this course you will learn the ins and outs of the accounting cycle with illustrated examples, the fiscal year, and finally, wrap up with a spreadsheet exercise where you will learn to create a worksheet. So why wait? Start the Introduction to Business Accounting course and learn the skills to become a successful business accountant today.
Start Course Now