Introduction to Biotechnology Basics
In this free online course, learn the basics of biotechnology and the various techniques used in this exciting field.
Publisher:

One Education
Gain insight into one of the exciting up-and-coming fields of research contributing to many peoples' well-being on a global scale. Some of the many benefits of biotechnology we have experienced include a reduction in infectious diseases, decreased world hunger, and improved agricultural processes. This free online course will teach you all the fundamental basics of biotechnology and the many vital skills you will need to succeed in this industry.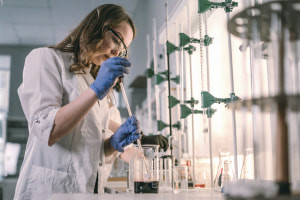 Duration

1.5-3 Hours

Accreditation

CPD
Description
Are you looking to learn how to apply biology to solve problems and develop beneficial products? This biotechnology course will teach you how to create various outcomes using biological systems to promote the well-being of people and the planet. These improvements have been made possible by the diverse areas of biotechnology and the sectors benefiting from these improvements include medical processes, industrial processes, and agricultural procedures. Discover that biotechnology is one of the fastest-growing industries in the world by learning hands-on skills that are required for you to succeed in the profession. These skills include the ability to prepare solutions, Polymerase Chain Reaction (PCR) amplification of DNA, the ability to grow bacteria, and how multiple other fields contribute to making positive biotechnology solutions that are beneficial and sustainable.
Firstly, the course will introduce you to how biotechnology has changed the medical industry by producing new medicines that have contributed to the treatment of cancers and heart disease. Are you aware that this is an era of biotechnology? You will learn about the different laws, regulations, and policies introduced to ensure that you practise biotechnology safely and sustainably. Molecular biotechnology is used throughout the agricultural industry to manipulate genes and improve the efficiency of crop production. You will have the opportunity to understand the differences between biotechnology and molecular biology and how these two disciplines are related.
The next section provides an overview of genetic engineering, which will give you a deeper understanding of recent developments in the field of biotechnology. Some themes include the complete process of recombinant DNA technology, which is made up of multiple steps taken to join DNA molecules from two completely different species, and the historical background of biotechnology. It summarizes past incidents of biotechnology from its inception to its modern-day developments, their applications, essential research tools, and themes in the health sector that have evolved as a result of contributions from biotechnology. The business implications of biotechnology concludes this in-depth biotechnology certificate where you will study the functional details of industrial biotechnology, entrepreneurship in biotech, and molecular diagnostics. If you have always been interested in this exciting field and want to learn all of its many implications as a student or biology professional, then this course is a great place to hone your passion.
Start Course Now