Introduction to Acting Auditions
Learn the basic auditioning types and techniques so you can ace your next audition with this free online course.
Publisher:

Emma Paunil
This free online course is designed to teach you the basics of auditioning so that your next audition will be stress-free and engaging. You will study some of the basic auditioning techniques and types such as the dreaded cold-read, audition with sides prepared, and how to audition with monologues. Improvisation auditions, self-tape, online submissions and various exercises are included to make your auditions standout from the rest.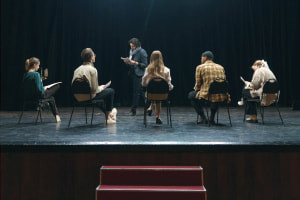 Duration

1.5-3 Hours

Accreditation

CPD
Description
Auditions are performances or interviews done by actors, musicians, dancers, or anyone in the creative arts industry for a role or job. Auditions are mostly done to give the casting crew and especially the casting director, the information they need when choosing the best performers for a role. In this course, you will be introduced to the basics of acting auditioning and self-submissions. And is the second in the series "Acting 101 Courses with Emma Paunil". Emma Paunil will take you through the basics of auditioning and the four different types of auditioning techniques that you might end up running into during your acting career. There are activities available for each of the auditioning types, as well as for self-submissions in the course. You will also learn how to prepare yourself for an audition and what to do and avoid during the audition.
The first audition type you will learn about is the dreaded cold-read. You will study the meaning of "sides", "circle moments" and the five W's in acting. Ways of memorizing the first and last lines of a script, making a back-story, and memorization will be covered in this section. You will also be taught how to actively listen, position yourself on stage, as well as how to engage the reader or act as the character would towards the reader. An activity you can do with a friend to practice your own cold-read audition will be provided. Auditioning by monologues is next up for discussion including reasons why monologues are good to use for auditioning and what to look out for or avoid when doing monologues. Parameters of auditioning by monologues will be explored and a helpful activity to breakdown and work on your own monologue, will be shown. The following discussion covers auditioning with sides prepared and you will be taught its similarities and differences with the cold-read audition type. The preparation work and what to do during the audition will be highlighted including a practical example of an audition with sides prepared from the instructor's own casting call. Improvisation auditions are covered in detail in the subsequent course content and this details preparation, tips, and techniques to ace your next improvisation audition. The final part of this course discusses self-tape auditions which will comprehensively teach you how to read and follow instructions when doing a self-tape, key questions and answers to look out for from casting directors during the audition and the process of submitting your online audition.
If you are preparing for any type of acting audition, are interested in getting into the acting industry, or looking to develop your foundational acting skills, then this course will set you up for success.
Start Course Now