International Communication and the Marketplace
Improve your international communication and learn how to navigate intercultural relations with this free online course.
Publisher:

Saylor Academy
This free online management course focuses on international and intercultural communication and relations. It explores various cultures and explains political, legal and economic systems. We then provide best practices for individuals experiencing new cultural environments to help you avoid misunderstandings as we examine common styles of management. This course can improve your intercultural communication and help you take a management path.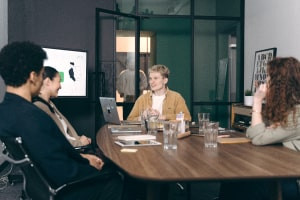 Duration

3-4 Hours

Accreditation

CPD
Description
This course provides a thorough analysis of intercultural and international relations and their supporting systems. We open with an overview of intercultural communications that unpacks culture, its many defining perspectives and how these perspectives affect our ability to communicate effectively. We then demonstrate how to engage effectively in intercultural interaction, considering contexts and utilizing recommended approaches. We go through common cultural characteristics and how they can reflect on specific communities. The course then moves on to study divergent cultural characteristics, 'explicit-rule' and 'implicit-rule' cultures and their individual peculiarities. We lay out Berger and Calabrese's 'seven axioms of uncertainty' and investigate other cultural elements like 'time orientation' and approaches to 'masculine' versus 'feminine' values.
While delving into the world of international cultures and relations, we introduce you to various political, legal, economical and ethical systems and their impact. This helps you understand why countries have certain political systems and makes clear their effect on international trade. We compare different management styles and theories (like McGregor's 'Theory X, Theory Y and Theory Z') and identify their supporting ideals. The world is shrinking and cultural exchange is becoming more common so this course provides best practices for acculturation and communicating with the world.
The world is now considered a 'global village' because individuals have found easier ways to exchange knowledge, ideas, cultures and more, through physical travel and communication via media. Such interaction is driven by the exchange of meaning, which is made easier by effective cultural appreciation. Because business is now truly international, you need to be prepared for when your role as a business communicator crosses cultures, languages, values, legal systems and borders. This free online management course explains the cultural characteristics common to business spaces worldwide and reviews the effects of intercultural communication on management styles and the global marketplace. We offer a rich blend of resources and exercises to aid learning and can help you hone your international and intercultural communication skills.
Start Course Now