Instructional Planning for Successful Teaching - Revised
Learn effective instructional planning strategies in just a few hours with this free education course.
Publisher:

Global Text Project
This free online Instructional Planning for Successful Teaching course will help you understand the US national and state learning standards as well as curriculum frameworks and guides. Instructional planning is one of the most important skills an effective teacher needs to acquire. With this course, you will learn how to formulate educational objectives as well as how to use your students' interests and abilities to design lesson plans.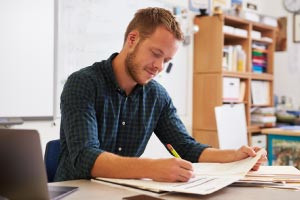 Duration

1.5-3 Hours

Accreditation

CPD
Description
This Instruction Planning course will first introduce you to the proper selection of general learning goals as well as the structuring of a curriculum framework and guide. You will learn how to formulate lesson plans and devise educational goals as well as study national standards and Bloom's Taxonomy. The course will also discuss the individual influence of students on a class, differentiated instruction, the Response to Intervention Program (RTI), emergent curriculums, and multicultural education.
You will then learn how to use modelling to demonstrate desired behaviors or to represent important theories. The course will also teach you how to encourage students to remember what they already know as well as to anticipate student preconceptions and remove misconceptions. You will then learn how to transition students from guided practice to independent practice. Finally, you will learn how to enhance student learning using resources such as the Internet, local experts, and field trips, as well as how to incorporate service-learning into the classroom.
Selecting the general learning goals and formulating objectives for your class is a very important part of the teaching process. By taking this course, you will be able to structure and correctly use a curriculum framework and curriculum guide. Your student''s learning will also be enhanced if you call on a variety of resources and practice differentiated instruction which makes learning more engaging. So, check out the course today and learn effective teaching techniques in just a few short hours.
Start Course Now