Important Pointers for Learning Portuguese
Discover what you should know before you begin learning the Portuguese language with this free online course.
Publisher:

Muhammad Elshanawy
Did you know that only 5% of all Portuguese speakers actually reside in Portugal? The vast majority of people live in Brazil. The number of people speaking Portuguese is increasing daily. This course is designed to assist you in determining what you need to learn in the early stages of your Portuguese language study. Create a solid foundation as you start learning a new language and unlock a world of opportunities.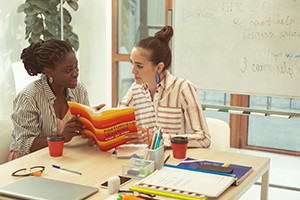 Duration

1.5-3 Hours

Accreditation

CPD
Description
This course will teach you everything you need to know before you begin studying Portuguese. It begins by demonstrating the most regularly used words and phrases, after which students will hear and practise accurately pronouncing the words and sentences. With all of the varied verb conjugation rules, Portuguese grammar can be a little confusing at times, but as you progress through this course, you will learn how to compose grammatically sound phrases.
Following that, you'll learn how some letters are pronounced differently depending on where they appear in the word and how some are even silent. Furthermore, you will also comprehend how gender affects almost all nouns in the Portuguese language. Subsequently, you will master how to greet others, make negative expressions, and pronounce and inflect various masculine and feminine terms in Portuguese.
Basic Portuguese words and phrases such as greetings, nouns, genders, and questions are essential for an absolute Portuguese beginner. It is not as difficult as you would imagine learning Portuguese vocabulary. It takes time and effort, but you'll discover that many Portuguese terms and phrases are related to expressions you are already familiar with. Commitment to your objective is the greatest approach to learn Portuguese. This course will present you with some helpful hints that will aid you in your quest for fluency. Discover the key points for Portuguese learning and start connecting as quickly as possible.
Start Course Now