Hypnotherapy - An 18 Day Weightloss Program
Learn how to master your emotions to sculpt and sustain your desired body in this free online course.
Publisher:

Joseph Drumheller
This free online course offers a general introduction to how hypnotherapy can aid in weight loss. It highlights the use of meditation and how hypnotherapy can allow you to tap into your subconscious to heal crippling traumas that may hinder your weight loss success. We also discuss the various components of weight loss with specific attention to your emotional and mental states. Are you ready to succeed in your weight loss journey?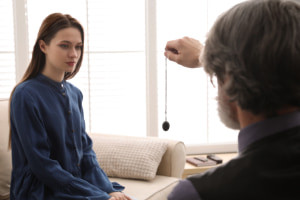 Duration

3-4 Hours

Accreditation

CPD
Description
This free online course about hypnotherapy and weight loss is an eighteen-day course to help you adjust your emotional and mental states. This will help you successfully lose weight and keep it off. Hypnotherapy uses relaxation and intense concentration to achieve a heightened state of awareness or mindfulness. This method has proven successful as a change in mentality creates a change in physicality. This course will teach you how to use exercise, diet and a positive mentality to shed your body weight without fear of regaining it once more. In addition, you will learn how to master your weight loss and gain passion and confidence to keep you motivated.
The course also covers body positivity and how not to feel pressured to conform to societal norms. You will explore the different meditation techniques available and when each of these techniques is used. You will have a greater understanding of the benefits of meditation and why it is beneficial to your weight loss. While aiding in weight loss, hypnotherapy solves the common issues that may impede your weight loss progress. These issues include underlying trauma, sleep deprivation, side effects of pregnancy and digestive disorders. Hypnotherapy is an excellent aid for weight loss. It helps those who struggle to keep the weight off or suffer from cravings triggered quickly and before they succumb to unhealthy eating habits.
Finally, the course provides information on how to lose weight. It offers information on how to improve your entire being, mind and body. It outlines all the positives of losing weight, lists all the obstacles typically faced and advises you on how to overcome them all. Students taking this course will develop an appreciation for the numerous benefits that meditation offers. This course will guide first-timers and experts on entering a deep trance-like state. Entering this state will allow you to focus and have access to your subconscious mind to mould you to start making the necessary changes within. Are you just starting your weight loss journey, or are you struggling to keep the weight off? Enrol today and begin developing a healthier mind and ultimately a healthier lifestyle.
Start Course Now