HTML5 Game Development Working with Inventory System, NPCs and Battle System
Boost your game development software skills by learning about inventory systems, NPCs, and the Battle System, for free!
Publisher:

Channel 9
This free online course in HTML5 game development will teach you how to create a game with a working working battle system, including inventories, NPCs, and battle mechanics. Creating inventories for your player characters, running and debugging on web browsers, and creating non-player characters for your games are essential features of every battle system. This course will help you create an engaging battle system for your browser game.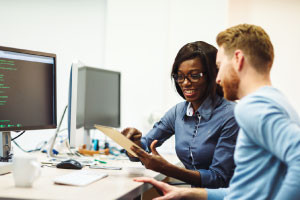 Duration

1.5-3 Hours

Accreditation

CPD
Description
The course will first teach you how to create an inventory system for your player characters and put them in an array which can be displayed on-screen. You will also learn how to load an additional sprite sheet to your game and how to debug your code in a web browser. The course will then show you how to create a non-player character (NPC) object for your players to interact with, as well as how to load them out of your sprite sheets.

Next, you will learn how to use Enchant's scene stackview new and previous scenes. The course will also teach you how to create a shop where the characters can buy items. You will then learn how to create a battle system for your game that includes win and lose conditions. Finally, the course will teach you how to create an enemy NPC to fight against your player character, as well as how to create battle plans for both of them.

If you already know how to develop an online game and want to take your game development skills up a notch, this HTML5 Game Development - Working with Inventory System, NPCs, and Battle System online course will teach you some great new ideas and techniques. By the end of the course you will have furthered your knowledge of computer game development and be able to make much stronger applications. So why wait? Check out your next course, today.
Start Course Now