How to Run Productive and Creative Meetings
Master the skills to organize your workspace and meetings for optimal productivity with this free online course.
Publisher:

Stone River eLearning
Is your workspace organized? Are your meetings lacking energy, creativity or productivity? This free online course will help you organize your work area for maximum productivity and give you the knowledge and tools to start holding more productive and relevant meetings that generate new ideas and boost creativity. Start this course now and learn the guiding principles by which to arrange your work environment and day-to-day schedule.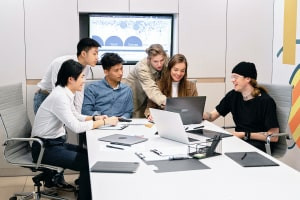 Duration

3-4 Hours

Accreditation

CPD
Description
This free online course will help you organize your workspace to boost your overall productivity and creativity. It will also guide you in improving the quality of your meetings and hopefully get you away from having never-ending, go-nowhere discussions. In the first section, you will explore some guiding principles by which you should organize your work area for maximum comfort and productivity. You will learn the key benefits of arranging your space to have everything within reach or easily accessible. The instructor will share his own real-life workspace experience, highlighting things that are right - and wrong - about it. Then, you will study the small changes that you can make right now to rearrange your desk area. The optimal lighting system and preferred electronic devices such as keyboards and mouses will also be reviewed. Furthermore, the reasons why you shouldn't eat at your desk and strategies to manage meals will be outlined. In addition, the appropriate cleaning wipes for your electronics and how to create a 'to-do' space will be covered.
The next section discusses how to boost your creativity in a meeting and get away from that dreaded feeling that arises when you gather for a discussion. You will be shown how to organize your meetings and switch things up, not just by being creative, but also by helping you understand how to make your meetings as productive as possible. This section aims to move your business forward and keep everyone focused and interested. Study how to create an ideal meeting setup that allows creativity to kick in. Learn how silencing chit chat and starting a meeting on a positive note can trigger further creativity. See how to motivate participants with food or other incentives. When to take notes, the use of 'opposites' and 'And/Or' exercises to boost the output of your meetings will also be explained. You will be taught how to achieve success without a table, how to split participants into groups and how to come up with inspiring brainstorming exercises. The advantages of having your meetings outside the four walls of your organization and having well-known or reputable guests appear will also be covered.
The last section will teach you how to run meetings so that they are productive and what you hope to achieve actually gets done. Discover why every meeting should have a facilitator and how different seating arrangements can have different outcomes. Next, master how to open a discussion, set an agenda and when to wrap up. You also will study how to deal with various personality types in a meeting. By the end of the material, seven different types of meetings and how to make each of them successful will be critically examined. This course is for anyone in a home-office or remote environment, company or group who wants to organize their work environment to boost their overall productivity and take their meetings to the next level.
Start Course Now