How to Pass Your Job Interview in English
Learn the purpose of various interview questions and how to correctly answer them in English in this free online course.
Publisher:

Terry Mc Gonigle
This free online course teaches you how to properly prepare for an interview in English. We explain how to find the right words by practicing your answers before the interview. We then examine the idea of 'active listening' and go over various standard questions and their appropriate responses. This course provides a thorough understanding of the hiring process to prepare you to ace your next job interview.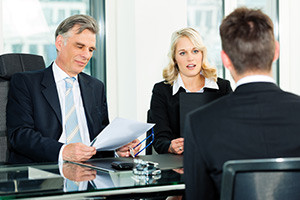 Duration

1.5-3 Hours

Accreditation

CPD
Description
Almost every job requires you to take an interview, making it a critical step in your journey to employment. Some people treat interviews casually and show up without any preparation or research, relying solely on their grades and attitude to qualify for the job. It's not easy to pass an interview and they often leave disappointed. Preparation is key to nailing this key step on the road to landing your dream job.
We begin by establishing the importance of fluency in English and possessing a wide vocabulary. In any interview, using accurate and precise words with the exact desired meaning can set you apart from the competition. We then show you how to conduct thorough research of the organization for which you wish to work. This can signal your seriousness and help you relate to your prospective employer during the interview. Your research can often reveal the reasoning behind the first few questions you face and best possible responses. This course supplies several standard questions and replies from real-life interviews. Prospective employers typically ask questions to learn about your personality, abilities, strengths and weaknesses and we explain how to successfully answer them.
Professionals use recognized techniques to craft questions in order to better understand interviewees. We go over one of the most well-known methods: the 'STAR' technique ('STAR' stands for 'situation, task, action, result'). We study the five different types of STAR questions and go through many sample responses to help you refine your own. Not everyone aces their first job interview but this course prepares you to do so as we can help anyone who has struggled because their English skills lack polish. We provide guidance to job seekers, particularly fresh graduates who haven't yet endured the gruelling job-seeking process and would like to avoid its disappointments. Sign up to take the inside track and learn from those who have succeeded before you.
Start Course Now