Guide to Teaching English as a Second Language (ESL)
Learn all the necessary skills and techniques needed to teach English as a Second Language with this free online course.
Publisher:

Nikolas John Cakebread
Teaching is one of the most rewarding careers you can choose, but it requires more than just knowledge to be successful. Being able to communicate and the ability of your students to comprehend what is being taught is mutually inclusive especially if you are an English Second Language (ESL) teacher. This free online teaching course offers you insightful, practical guidelines and techniques to help you on your teaching career path.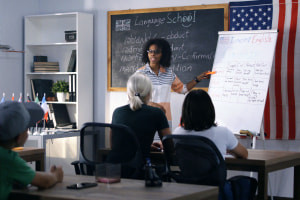 Duration

1.5-3 Hours

Accreditation

CPD
Description
Have you always had a passion for teaching and wondered what you need to do to fulfil your teaching dream? In this free online teaching certification, you will be taken through many different methods and strategies that you can employ to maintain a conducive learning environment for your students. The success of a teacher depends largely on the attitude of the teacher and how he or she manages relationships with the students. Explore how to build friendships with and among the students, how to create guidelines to be followed by students to maintain order, and how many things affect the classroom environment such as seating arrangements and motivation. Behavioural management is a key factor in creating and maintaining a healthy learning setting and this course covers everything from employing a reward system, to dealing with student learning challenges and activities for fostering a conducive classroom atmosphere.
In this teacher's guide, you will learn the various ways you can utilize the total physical response (TPR) method to make teaching fun and easy for the students. Explore how to use action words (especially verbs) to engage the students in a meaningful way and a technique known as the "whole brain method" as another means of teaching. You will also be taught some tips on how to pursue a teaching career, gain employment, and search for teaching jobs outside of your country. The next practical section of this English teaching certificate covers the day-to-day items and technical skills you need for your classroom activities such as class setup, games, phonics, basic sounds, demos for the construction of sounds, classroom management and the roles and responsibilities of teachers and students in the classroom.
Teaching is a gratifying skill and when it is mastered, it makes learning an enjoyable experience for teachers and students. Teachers are handed the responsibility of molding lives and this responsibility is critical and delicate. The formative years of a child are mostly left in the hands of teachers and this ESL teaching certificate is both a refresher course for those who have some teaching experience and a guidance course for anyone new to teaching. By enrolling in this course, you will have the added advantage of being able to become an ESL teacher anywhere in the world.
Start Course Now