Fundamentals of Google Docs - Increased Productivity
Acquire beneficial skills in Google Docs by learning its features and best practices with this free online course.
Publisher:

Laurence Svekis ✔
This free online Google Docs course covers all the program's features for collaboration and sharing, formatting, editing, and controlling Doc versions. You will get an in-depth look that will enable you to increase your productivity. You will also learn how Docs connects to and works with other Google apps like Sheets and Drive and how it can handle file formats from outside of the Google environment.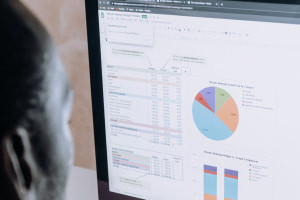 Duration

1.5-3 Hours

Accreditation

CPD
Description
Google Docs is word processing software that is part of the G Suite group of apps. It provides users with a wide-ranging array of features. This course gives you detailed presentations on how to access and use these features. You will learn the best practices to make the most out of your time using Google Docs. The app includes all the standard features you would expect to find in word processing software, such as text indentation and line spacing. And these are previewed in the course, too. However, Google Docs provides other features that, once learned, enable you to increase your productivity and get more out of the app. These include helpful tools like voice typing, personal dictionaries, document translation, and grammar checks. Other interesting Google Docs options in this course include the drawings function and how it allows users to insert textboxes or signatures into documents and treat them as editable images that retain their editing functionalities even after they have been copied and copied pasted. Another exciting feature also covered in the course videos is the Docs option to find and insert special characters by drawing them by hand. This feature is helpful in that it saves users the time to look through endless special characters lists to find what they are looking for.
Google Docs is also optimized for collaboration and sharing. This course details the related features that the app provides. And the course videos also show you how to apply these features with clear step-by-step guides. You learn about Viewing, Suggesting, and Editing Modes. You will also learn how to share your Docs in either Restricted or Sharing Mode and add Sharing Permissions to allow specific people to either View, Suggest or Edit the shared documents. Docs users also benefit from extra functionality that would otherwise be unavailable in traditional word processing programs. This is because Docs is part of the Google group of apps. The G Suite apps work together flawlessly, providing users with the ability to complete a full range of tasks without having to leave a single app. Some prime examples of this are covered in the course, including how Google Docs and Drive work together. We also explain how you can link objects from Google Sheets into Docs. Google Docs also has web functionality integrated into it, opening up limitless possibilities for its users. This course shows you how to find web sources from within the app and then cite them using Docs' footnote citations feature. Interaction with the web in Google Docs is, by no means, restricted to citing a source. The course videos also show you how to look up and insert web images, find web links, and insert them into your Doc.
The content delivered in this course provides crucial Google Docs knowledge, especially for learners looking to increase their productivity and gain valuable Google Docs proficiency. And, the features and tools that are covered within the course enable users to get the most out of the Google Docs experience. Also, the usage tips and suggestions presented serve to enhance the cloud experience further, leaving learners with a comprehensive Google Docs education. And since it is a video-based course, learners get 'hands-on' experience to apply directly in the Google Docs app. The course is also free and has a maximum study duration of only three hours. So, are you looking to manage your time well while completing word processing tasks by being more productive, essentially doing more with less? Of course, you are! Enrol in this course now and benefit from the valuable information on offer.
Start Course Now