Fundamentals of Business Law
Learn important business law principles for the most common types of businesses with this free online course.
Publisher:

Christine Williams
This free online course in the fundamentals of business law will teach you about the different types of business ownership, and will help you choose which ownership type best suits your business. Choosing what type of business ownership you want is not as easy as one may think, there are several types with complex advantages and disadvantages. This course will help you optimise your business for you, and stay fully compliant with the law.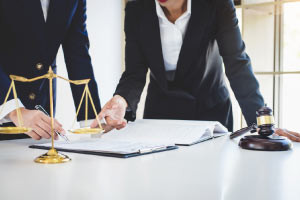 Duration

1.5-3 Hours

Accreditation

CPD
Description
Every business owner should have at least some understanding of the principles of business law. This course offers the much-needed knowledge that every businessman will find useful in setting up a business. It covers the topic of a sole proprietorship, general partnerships, limited partnerships, and incorporations. In a step by step manner, the course will guide you through the legal requirements, legal recommendations, financial status, taxation, and liability related to the most common types of businesses.

The course will then tackle the important business law principles in a sole proprietorship which is the simplest type of business ownership. Then you will look into a general partnership. This is a business owned by two or more persons and, just like a sole proprietorship, provides no protection against liability to the owner. Finally, you will study the laws that encompass a corporation, where the owners are the shareholders and are not liable for debts.

Understanding the principles of business law will help you set up the right structure and choose the right ownership for your company. This free online course will be of interest to business professionals and law students who would like a greater knowledge and understanding of business laws. With the adequate information provided in the course, your business will run much more smoothly. Check out the course today and learn which type of business structure is the right one for you in just a few hours!
Start Course Now