Frequently Asked Media Training Questions
Learn how how to become an eloquent, confident and engaging speaker in media interviews in this free online course.
Publisher:

TJ Walker
This free online course will teach you how to speak to the media confidently and professionally by guiding you on how to relate with reporters, shape your messages, answer interview questions and get the exact sound bites you want in an interview. How to identify and avoid common interview mistakes will be explored. You will learn about reporting terms such as 'Off the record', 'On background' and how you can use them to speak to reporters.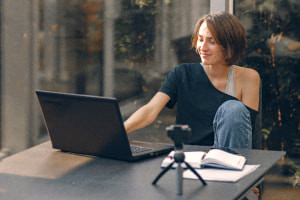 Duration

1.5-3 Hours

Accreditation

CPD
Description
Communicating with the media can be a daunting and stressful experience for many people. This can sometimes affect the reputation of your company or organization negatively if it is not well managed. Every media outlet, no matter how big or small can have a great impact on your career as a spokesperson. That is why every interaction with the media should be taken very seriously by preparing and training for media interviews ahead of time. This course focuses on providing answers to frequently asked media training questions and presents guidelines that would guide you on how to predict questions, avoid common mistakes and focus on delivering your quotes during media interviews. The course begins by introducing you to media training and its concepts. You will be taught how media training differs from public speaking and presentation training. You will learn how to answer interview questions confidently and comfortably. Thereafter, you will gain an understanding of how to plan an ad-lib and how to communicate with your audiences. Remote interviews require the use of specialized and expensive equipment. The act of putting in an earpiece and answering questions while facing a camera needs special training. This course will show you how to deal with such interviews by presenting you with guidelines that would enable you handle the technicalities involved in remote interviews.
Many people have a low level of comfort when dealing with the media. Low comfort level means that potential key messages and quotes will not be delivered and may lead to the non-accomplishment of your personal or organisational goal. For instance, during an interview, what would be the best time to scratch an itching body part? This course will teach you how to compose yourself during an interview and how to answer questions confidently. You will be taught when not to say 'No comment' 'during interviews, what to do when a reporter misquotes you and how to deliver clear-cut messages using the concept of sound bites. Understanding how reporters think is vital during interviews. This can be used as leverage during interviews in order to deliver exactly what you want to say. You will learn about terms used by reporters during interviews and how to use them to speak to reporters. On top of that, you will be taught how to get questions from reporters in advance, establish ground rules with reporters, stall reporters and more.
Are you a spokesperson for your company, organization or group? Are you a streamer or a video blogger who wants to improve their media skills? Then this course is for you. You will be precisely shown how to use a microphone and lighting systems to improve the lighting of your medium. This course will also increase your ability to speak to video cameras and make your own videos effectively. Interviews on TV are different from phone interviews and are also in turn different from radio interviews. You will be given guidelines on how to leverage these mediums to your advantage. This course is important for learners who wants to gain the confidence to supply good answers and convey their messages clearly to their audience during media interviews. No matter your experience, practising how to answer all potential interview questions using the guidelines from this course will make you sound professional. So enrol now and start practising.
Start Course Now