Foundations of User Experience Design
This free online course will show you how to complete the user design process successfully from start to finish.
Publisher:

Deby Joevita
Are you a UX designer interested in a deeper understanding of creating the best possible experience for your user? Or maybe you are interested in getting a dream job and a rewarding user experience design career? Whatever your UX dilemmas or aspirations are, you are at the right place. This free online UX design course will help you discover how to master user experience design and design your UX career roadmap.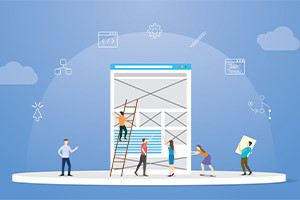 Duration

6-10 Hours

Accreditation

CPD
Description
User experience design influences how people perceive and communicate with the world. A user experience designer is involved in the entire process of acquiring and integrating a product or service, including design, usability, and functionality. Whether you are just starting or have years of expertise, laying a solid foundation for UX design is essential. This UX design certification offers practical recommendations on establishing a well-known UX career. It begins by outlining what you should know before embarking on a career as a user experience designer. Regardless of your background, you will learn how to present yourself as a brilliant UX designer in the market. We further outline the approach to create your chance in the UX sector.
The following section outlines a comprehensive list of frequently asked job interview questions to help you make an excellent first impression and you will also discover the essential steps for creating a custom UX design portfolio. The significance of continuous learning and improving your UX design skills to advance your career is discussed further. The phases of the UX design process is then discussed and you will realise that you generate an excellent experience for your user with a thoroughly prepared and supervised UX design process. The scope for efficient communication is explored in UX design and mindset and this UX training will help you understand the qualities that are needed to become a convincing UX designer.
UX designers must grasp the motivation, habits, conduct, wishes, and requirements of the user. Furthermore, the course explains how to establish compassion in your contacts with users as a UX designer and the relevance of empathy. The different types of questions that are asked during a user interview are discussed and the concept of user motivation is also explained which allows you to fully grasp how motivation can be a broad topic that needs careful consideration. This free UX design course concludes by discussing various techniques for conducting user research and data collection. A well designed UX process has become a foundation for not only attracting customers, but also retaining them. It's often discussed that a user experience directly impacts the perception of value and price of a product or service i.e. users are more likely to pay more for something if their experience is a good one. Enrolling in this course will help you refine your UX design skills in a practical way because it combines technical theory with practical application and will set you up to market yourself as a credible, experienced, technically sound UX designer.
Start Course Now