Diploma in Food Skills and Techniques
Learn the food skills and techniques needed to excel in the catering and restaurant industry with this free course.
Publisher:

NuYew
This course offers a broad overview of various food preparation skills and techniques. It starts with how to prepare stock and the various ingredients used for different types of stock. Then consider individual cuts of meat and the dishes for which each is most suitable. In addition, this course covers the sweeter side of cooking – baking. It will take you through some of the methods and skills needed to make a variety of desserts.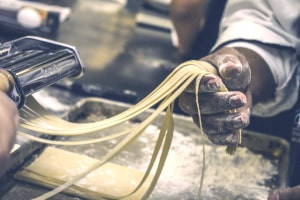 Duration

6-10 Hours

Accreditation

CPD
Description
This free cooking course will cover a broad overview of various food preparation skills, cooking methods and more advanced techniques. One of the many building blocks for a chef to learn is making stock, an essential component in many dishes and the base for many sauces. Learn why, once a stock has been made, you need to follow the correct cooling down, storing and reheating methods in order to avoid bacteria growth. Next, see why sauces are crucial in marrying individual components and providing an explosion of flavour. Meat is the centre of many cuisines, courses and dishes so it is important to know the three categories domestic meat is usually divided into. Which is the generally the most prized and commands the highest prices? How does the quality differ depending on the type of animal it is derived from? How have breeders changed the qualities of certain meats to be leaner and lower in fat? Can some types of meats harbour a specific parasite that can cause serious health risks?
Poultry and seafood are also popular ingredients that, like meat, are significant sources of protein. The first group includes at least eight different types of birds and the course breaks down the most and least popular joints. It also covers what to look for when choosing seafood and how to tell if it is fresh or not. Gutting fish correctly is a crucial skill for all cooks to know, and the material will show you how to do so properly to avoid the guts releasing an enzyme that quickly spoils the fish. You will consider the types, anatomy and cooking of shellfish and cephalopods, which are also part of the seafood group. Finally, you will study the plethora of 'side dishes', including vegetables, grains and pasta. Learn how we have cultivated grains for centuries, including wheat, rice, quinoa, barley and many others, and see why pasta may be considered to belong to the grain family. Learn how combining flour and eggs or water creates pasta, and why making fresh pasta can produce a richer flavour.
Lastly, this free course focuses on desserts, many of which require highly specialised techniques to execute correctly. Whether made from chocolate or vanilla, or served hot to cold, being able to make a variety of desserts is crucial to being a well-rounded cook or chef. This course is essential for anyone who would like to brush up on their food skills in the kitchen, whether you are a home cook or a professional chef who is just starting out. By mastering the essential skills and techniques contained in this course, you will also be able to create your own dishes because you will have a solid foundation of methods and a knowledge of stocks, sauces, meats, side dishes and desserts. You will also conquer food waste and, of you own a restaurant or catering company, see how correct food storage and preparation can increase your gross profit. Stay-at-home parents, students, childminders and even carers can benefit from completing this beneficial food skills and techniques course.
Start Course Now