Firefighter Training
In this free online course, learn the most important duties of firefighters and study fire safety standards.
Publisher:

One Education
This course will help you learn about firefighters' roles and provides essential information on health and safety issues they encounter daily. We will discuss general legislation that has arisen from various practical experiences gathered from the past. We will also go through the steps to measure fire risk and some important issues. We will discuss the safeguards to implement, control and review safety standards to help you ensure compliance.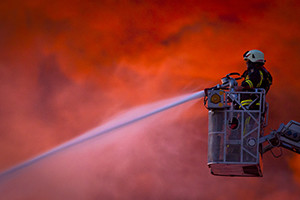 Duration

3-4 Hours

Accreditation

CPD
Description
A firefighter plays a vital role in providing emergency services in any community. In this firefighter training course, you will learn what makes up the duties of a firefighter and study important details about health and safety issues. First, become familiar with the essential issues associated with this profession and understand the tidbits of firefighting. Next, you will learn something about the general legislation that has resulted from various practical encounters in history. For example, accidents related to buildings frequently occur in England. This course will help you understand the law concerning safety when building a house that was introduced in the United Kingdom in 2000.
Are you wondering about the science and chemistry of fire? This course will provide you with this basic knowledge. A fire or combustion is a result of a chemical reaction. Understanding the chemical reaction is the basis for preventing fires and extinguishing them once they have started. This course will also help you understand the different stages of fire. You will learn the steps required to measure fire risk and the vital aspects you need to consider in an assessment. Discover the importance of maintaining daily inspections to minimize the risk of fire. Investigate the safeguards to implement, control, monitor and review safety standards to ensure compliance with them. We will also discuss creating a plan that outlines the arrangements for effective fire safety management to prevent fires from occurring.
This course outlines the duties of the various positions in the fire hierarchy. Explore the overall responsibilities, procedure and things to look for during the evacuation process. Do you like the idea of knowing the different types of fire suppression systems used in various offices and homes? We will address this important topic and describe firefighting foams and chemical extinguishing agents to assist you as a safety manager in selecting an appropriate fire protection system. This course is ideal for anyone working as a firefighter who wants to improve their skills in this field. So why wait? Start your learning experience today.
Start Course Now