Essential OneNote Basics
This free online course on OneNote will teach how to use this application to manage your information effectively.
Publisher:

SimonSezIT
This free online course on productivity tools will provide a comprehensive introduction to the basics of Microsoft OneNote with a step-by-step explanation of how to get started with a notebook. You will learn about creating, saving, sharing, closing and even deleting a notebook. This course will equip you with an essential skill for managing your information and enhance your workplace productivity.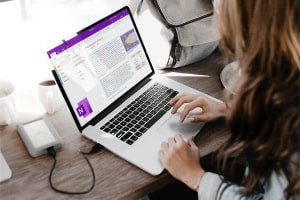 Duration

1.5-3 Hours

Accreditation

CPD
Description
In today's information-driven world, effective management of your information through technology tools is a vital skill worth learning. Microsoft OneNote is an all in one note-taking, information gathering and multi-user collaboration tool. It supports notes, drawings, handwriting, screen clipping, audio and video and other types of content. This course on the basics of OneNote will be useful for beginners, who have no previous experience. Those upgrading from a previous version of OneNote will also benefit from this course. It will guide you with a step-by-step account of working with OneNote. Like all other Microsoft applications, OneNote is accessible in different versions. You will learn about these versions and how to access them. This course will provide answers to questions like - Can I work with OneNote on any device? Which version is most suitable for me if I want to work on a desktop? Can I work on OneNote in touch mode?
Imagine if you could file the minutes of a team meeting, the presentation that was shown in that meeting, a worksheet with relevant data for your next project, all the links of useful websites to complete a project, the emails related to the project and even the audio recording of a client detailing her specific requirement, in one single folder. This is an effective and productive way to manage information related to a specific project. OneNote has all these functionalities and more. In this course, you will learn about the exciting new features of OneNote and how to use its interface. You will begin with learning how to create a notebook with sections and why assigning colourful tabs to those sections could be useful. This creates a meaningful and easy to navigate reservoir of information relevant to a project. Your course instructor will walk you through all the steps to show the functions and features of the key tabs in OneNote ribbon.
You will get a complete explanation of its toolbars and the 'Insert' tab. You will learn how to customize the quick access toolbar with an easy to understand demonstration via screen sharing. All other functions will be explained in a similar manner, which is like getting a hands-on learning experience. You will learn how to capture a screen clipping and add it to your notes or print anything on your computer directly to OneNote. The course will focus on the functions and utilities within the 'Insert' tab. You will learn how to add images, online pictures, embed online videos, links, files and even equations and symbols on a page within a notebook created on OneNote. Learning to work with OneNote will be a handy professional skill. This course will be useful for educators who would want to have easy access to their teaching notes. They can even share these notes with ease. It will be useful for working professionals or freelancers and gig workers, who have to work and collaborate on multiple projects. So, get started and enrol in this free course.
Start Course Now