English Grammar - Prepositions & Conjunctions (Intermediate level)
Learn how to use prepositions and conjunctions correctly with this free intermediate level English grammar course.
Publisher:

Advance Learning
This free online English language course teaches you about prepositions and conjunctions, which form important parts of English sentences. It will guide you through their different uses so that you can understand them easily and express yourself more clearly and precisely. This course also features audio recordings of native English speakers to help you.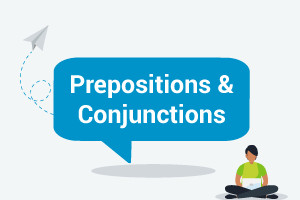 Duration

1.5-3 Hours

Accreditation

CPD
Description
This English grammar course will first teach you when to use 'although' and 'because'. You will then study the differences and similarities between 'despite', 'in spite', 'though' and 'although'. You will learn that you use 'in case' when preparing for something that is unlikely to happen, and that 'unless' and 'not unless' are used in negative English sentences. You will also learn how to use 'if + not' instead of 'unless'. The course will then cover the prepositions 'as', 'just as', 'when', 'because', and 'since'.
You will then study the different ways you can use 'verb + like to', 'as though' and 'as if'. The course will also cover 'for', 'during + noun', 'while + subject + verb', 'while', and 'during'. You will learn how to use the past form of English verbs to talk about the present and the present form of the verb to talk about the future. Finally, you will study the uses of 'by', 'until', 'till', 'by the time', 'by then' and 'by that time'.
Expressing yourself in English will be so much easier once you have mastered prepositions and conjunctions. You will sound more fluent and be ready to take on much more advanced English skills in your next lesson. This will be a great boost for your confidence as you move forward with your English training and have more conversations with English-speaking people. 
Start Course Now