English for Tourism - Tourist Information and Guided Tours - Revised
Enhance your English speaking skills and express yourself more confidently when guiding tours, with this free course.
Publisher:

Openstax CNX
English is the main language of international communication and is essential for people working in the tourism industry. This course introduces the key English vocabulary needed when speaking to tourists. You will learn the necessary English skills for working in tourist information offices, including how to provide directions, understand guidebooks, and write press releases. You will also learn how to conduct guided tours, and more!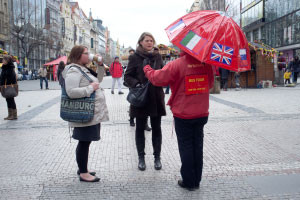 Duration

Hours

Accreditation

CPD
Description
Tourist information offices are centres that provide information about tourist activities in their region. This course will discuss why tourist office employees' role in providing the most accurate information possible to tourists often requires them to be fluent in English. You will then learn how to use the present simple tense to refer to an action or event that takes place habitually or is semi-permanent. This skill with be very helpful when discussing itineraries with tourists.
Guided tours are generally divided into two categories: city tours and extended tours. City tours take place solely within a city and are one to six hours in length, while extended tours explore cities as well as the surrounding region and can be anywhere from one day to a few days. This course will teach you how to give specific directions and subtle directions when conducting tours. You will also study the superlative form of an English adjective and learn how to form passive sentences in English.
Guiding tours can be fun and engaging especially if you can communicate in English properly. Upon completion of this course, you will have learned how to deliver tour commentaries and give directions using different forms of English grammar. You will also have learned how to form the superlative of adjectives, speak in the passive voice, use the predictive future tense, and ask indirect questions in English. So, check out the course today and start enhancing your English skills in no time at all!
Start Course Now