English for Media Literacy
Media literacy is a good way of better understanding what you see and read in newspapers, on TV and across social media.
Publisher:

University of Pennsylvania
This course has been specially designed for non-native English speakers interested in learning more about the American media. You will study the different types of mass media, such as newspapers, magazines, television, and social media, and the role they play in our lives. This will greatly enhance your vocabulary and language skills needed to critically analyze what you read and watch in today's modern media.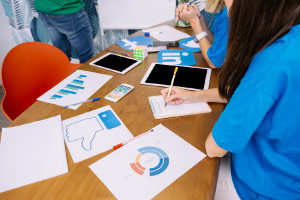 Duration

1.5-3 Hours

Accreditation

CPD
Description
This course begins with an introduction to media literacy and shows you how you can evaluate your own media literacy level. You will then learn how to identify facts versus opinions in the media. Next, you will study the differences between social media and traditional media, as well as how gender and identity are covered. In the final part of the course, you will demonstrate your increased media literacy through a project on social media.
This course is ideal for non-native English speakers who want to improve their English language skills for reading and watching different types of mainstream media in the United States.
Start Course Now