English Course - Word Forms (Upper-Intermediate Level)
Learn how prefixes and suffixes are used to form new words from other words with this free online English course.
Publisher:

Advance Learning
This free online English language course will teach you about Word Forms. In this course you will learn how to use prefixes and suffixes to form new words from other words, and greatly enrich your understanding of English vocabulary. You will also learn about how different adjectives can be used to describe English nouns and describe your feelings. Take this free course today and improve your English with easy tips, examples and exercises.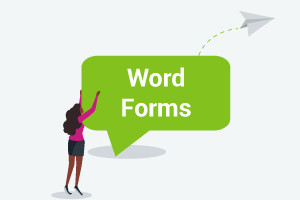 Duration

1.5-3 Hours

Accreditation

CPD
Description
This English grammar course will first introduce you to suffixes and gerunds. You will study a list of suffixes that will help you form new words as well as learn how gerunds can be used with other words in a phrase. The course will also teach you how to form adjectives by adding letters to the end of the word such as 'wealth + y = wealthy' and beginning of a word such as 'un + happy = unhappy'.

You will then study how to form adjectives from other words using suffixes such as 'physics' and 'physical'. The course will also teach you how to add prefixes and suffixes to words (known as morphemes) when you change their forms. You will learn that how you say something or the way you say something is important and makes a difference in how you will be perceived or understood by a listener.

Prefixes and suffixes can greatly change the meaning of a word. This makes it essential for every English learner to study how these words can be formed. By the end of this free English course you will have a much stronger understanding of word forms and also the importance of using the right tone and pitch in speaking. The course has an easy-to-follow outline that is designed to make the learning process really enjoyable, so check it out today and start bringing your English to the next level.
Start Course Now